Post by Ridelys on Jun 4, 2019 4:39:06 GMT -6
ENCOUNTERS ARE ON
Ridelys
Skills applicable: Magical Awareness, Feel the Node, Architect (r.3), tracking, advanced tracking, wild speak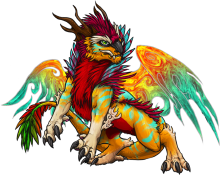 Unnamed, lv 13, loyalty 15 (loyalty 10 to train)
Draenix, they/them
Stamina: 7
Strength: 5
Resistance: 2
Dexterity: 5
Mentality: 1
Special Abilities: Lava Bathe, Fly, Intimidation
Moves: Arid Bite, Explosion, Regenerate, Infernum
Size Chart Reference: 4
"Obedience": Name, no, come, stay, follow, move, no bites, tolerance
Biology: They are fire, they are death, and quite prickly about their sense of honour to boot. Its no small feat to win the favour of one of these embodiments of mayhem and fire, for they seem to be able to (quite literally) go off at the smallest spark. Still, their sense of honour should not be confused with true intelligence, at least not the kind commonly known in their tat-lung parentage - the half-breeds are quite intelligent, clever even, but are solely focused, or perhaps trapped, along a singular mindset, leaving them little care or reason to learn things beyond it.
What sort of mindset? Well.. They have an obsession with fire, with ruin and the chaos that comes with both. Immersed in such environments they feel a sense of liberty and intoxication. Outside of it, that streak of honour keeps their urges in check, but only barely.. Give them the slightest of reason to unleash and it may very well be they will not stop until spent. As such, all owners are highly advised to bond with their half-breed early on, for a bond of loyalty gives them further reason to remain composed.
On the physical side, there is not much miraculous (beyond the wings) - their bodies lithe, their claws sharp, their sight excellent and their demeanour imposing to behold, to be sure. If anything, it's regrettable they inherited no scales, leaving much of their hide and form rather soft. But the wings.. oh such arcane wonder! So much of their fiery, ruinous fury came to be that their bodies could not fit it all, and some coalesced into physical manifestations - solid fire, smoke and ash. It has been observed that in the moments leading up to their greatest weapons being used the shape of these wings waver, their surface seeming to crackle and destabilize, before the searing flash. Indeed, any half-breed who still survives using their explosive ability will be left standing with much smaller remnants of their wings, and unless properly healed, it could take a couple of hours for them to regain their original size. Beyond that, the change of shape or intensity of colour is usually the first sign of them beginning to let go of that precious sense of control.
Spoils:
Times of Displacement