Post by Vixen on Jun 6, 2019 23:56:46 GMT -6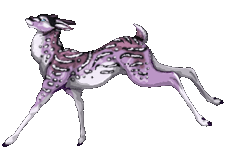 Admittedly, Vixen was terrible at asking for help. Maybe it was a pride thing, maybe she was anti-social, maybe she just didn't know how to ask, or didn't want to be a bother- so when she saw a flyer offering to share a proven training technique for healers, it seemed like a reasonable get-out-of-jail-free card. She had enjoyed collaborating with other trainers in the past and observing their methods, and being that she'd never taught it herself. Her only concept of it was perhaps deliberately wounding herself and hoping her creature took an interest in repairing it; perhaps that's what this stranger was advising? Either way, it'd be nice to have some confirmation on the subject, so she had written a reply by Izer with a time and place. After her recent run-in with a Sarane, and relying on Ashe's Equillion to heal her, having a trained healer seemed like a good idea. So here she stood, nervously tugging at her loose, slash-backed tank top with one hand, the other looped around the blue nylon halter of her purple-shaded Galabex.
Leilani herself as an interesting creature, poised and graceful with flighty blue eyes that flickered side to side, framed with long, swooping lashes that moved Vixen to envy. The doe had such a sweet expression, and it was a hilariously false advertisement- Vixen took care to stay against Lani's side, as the precious-looking deer had an unexpected ability. When she was frightened or agitated, she spat. Oh no, not just spit. She spat
acid
. Vixen had witnessed her melt beams of wood, pieces of wall in the Mansion. In fact, Vixen had brought her safety-gear with her- a visor with a plastic face shield sat on top of her head, perched on top of the half-ponytail she'd pulled her hair into, leaving raven tresses framing her scaled neck. She had no clue what would be expected of them, so beside them was a backpack with a pocket knife, a pouch of berries for training treats, a first aid kit (hey, if they were training to heal, injuries would be involved, and who knows if the creatures would comply?), rope, bottles of water, and sandwiches. Hey, if this person was helping her, she could at least feed them, right? Right...
((Leilani 2.3 // Loyalty 11))