Post by Aura on Jun 27, 2019 15:24:22 GMT -6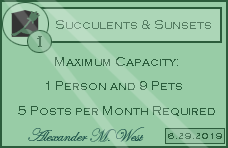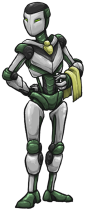 No matter where one went in the city, there were always new places to be found. After all, people lived and worked around the Labs every day. New shops open and closed; new houses popped up and disappeared. The society was alive, awake, and it grew and died like everything else in the world. Aura arriving in town was just another part of that, and so was their vision. So, within weeks of their arrival, a previously ignored and decaying building suddenly brimmed with life. What had once been an empty, long-forgotten corner store had become much more inviting.
Outside there were glass tables with dried flowers pressed inside, and chairs designed for both comfort and surviving the elements. Flower pots hung from the awning, spilling over with fresh flowers that gave a delicate scent to the air. Pots were on the ground, too, filled with larger plants that required much more sunlight. Floor-to-ceiling windows showed the interior of the good sized cafe, and within, walls on both the left and right were filled with plants in boxes that were backlit with artificial sunlight that could be adjusted based on the needs of what grew. The ceiling was translucent, letting in just enough sunlight to give what was needed to the yet more plants hanging from the exposed rafters.
The tables inside were also clear with pressed, dried flowers, but the chairs were much more comfortable, designed for lounging or even cuddling. A variety of plants gave their scents to the air, mixed in with fresh soil and what was undoubtedly fresh tea and baked goods being made behind a curtain that led somewhere out of sight. A menu was hand-written in chalk behind a counter with a register, and shelves upon shelves behind it allowed for the color and type of dishes to be picked out by the consumer. After all, there were many different kinds of aesthetic for one to enjoy. A single robot stood behind the counter, greeting you with the friendly voice of- undoubtedly- the real owner. It appeared to know what to do, at the very minimum.
---
Succulents and Sunsets Menu
Tea made with any of the plants from the wall, handpicked and fresh. Choose any combination of flavors; we'll brew it. Information on the plants is below each on their planters.
Ask about our daily special drinks or teas!
Today's pastries: wild berry tarts, butter glazed croissants, lemon cake, sugar cookies