Post by Ashe on Jun 28, 2019 3:00:41 GMT -6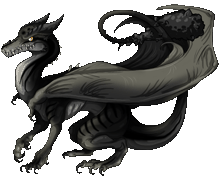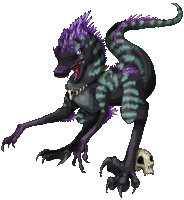 [] Accept Noise - 2
[] Accept blood/scary sights - 2
[] Accept sudden movements - 2
[] Accept darkness - 2
[] Accept enclosed spaces - 2
[] Alpha - 10
[] At Ease - 3
[] Bash - 3
[] Bite - 2
[] Body Slam - 9
[] Carry Load - 2
[] Charge - 3
[] Claw -2
[] Climb -4
[] Cover - 2
[] Crunch - 3
[] Danger Sense - 10
[] Dash - 3
[] Dodge -4
[] Drop - 1
[] Endurance - 4
[] Fishing - 5
[] Forage - 5
[] Gash - 3
[] Get (Nodes) - 1
[] Guard - 5
[] Hardy - 5
[] Hold - 1
[] Hunt - 6
[] Intimidation - 7
[] Jump - 1
[] Jump Over - 1
[] Lick Wounds - 3
[] Location (Home) - 1
[] Maul - 4
[] Nightvision - 8
[] Plains-runner - 5
[] Pounce - 5
[] Read - 15
[] Recognize Color (Red) - 1
[] Recognize Color (Black) - 1
[] Recognize Color (Blue) - 1
[] Recognize Color (Orange) - 1
[] Recognize Color (Yellow) - 1
[] Recognize Color (Green) - 1
[] Recognize Color (Brown) - 1
[] Recognize Color (Purple) - 1
[] Rend -3
[] Roar - 3
[] Run -3
[] Search (nodes) - 2
[] Shake - 1
[] Shred -6
[] Silence - 2
[] Snatch - 3
[] Snitch - 6
[] Speak - 5
[] Stalk - 3
[] Stone Skin - 4
[] Struggle -0
[] Swim - 3
[] Vice Grip -3
[] Watch Me - 1
Fafnir

[] Accept Bloody/scary sights (2)
[] Accept Noise - 2
[] Accept sudden movements - 2
[] Accept darkness - 2
[] Accept enclosed spaces - 2
[] At Ease (3)
[X] Barrel Roll ("espira!" - Spiral in Spanish) (4)
[X] Breathe Fire {"Incendiar!" - Romanian for "Ignite"} (7)
[] Bash (3)
[] Bite (2)
[] Body Slam (9)
[X] Carry Rider (2)
[] Catch (2)
[] Calvary (5)
[] Claw (2)
[] Climb (4)
[X] Come {Tongue click} (1)
[] Crunch (3)
[X] Danger Sense (10)
[] Dash (3)
[] Dodge (4)
[] Dive (2)
[] Don't Eat that (1)
[] Endurance (4)
[X] Faster/Slow down {Lean forward/back} (1)
[] Fire Spout (5)
[] Fishing (5)
[] Flip (3)
[X] Fly {"Volar!" - Spanish for "fly"} (3)
[] Gash (3)
[X] Go {Lean forward} (1)
[] Guard (5)
[X] Hardy (5)
[] Headbutt (3)
[X] Higher (whistle) (2)
[] Hover (2)
[] Hunt (6)
[X] Intimidation (7)
[X] Land {"Arazi" - Turkish for "land"}
[] Lick Wounds (3)
[] Location (Zanarkand) (1)
[] Maul (4)
[X] Name {Fafnir} (1)
[X] No {No!} (1)
[] Nightvision (8)
[X] Pounce {"Matar" - Portuguese for "kill"} (5)
[] Rend (3)
[] Shred (3)
[] Snatch (3)
[X] Stalk {"Gizli" - Turkish for "hidden"} (3)
[X] Stay {"Ho!"} (1)
[] Stone Skin (4)
[X] Stop {"Whoa!"} (1)
[] Struggle (0)
[X] Swim {"Nadar"} (3) (Spanish for Swim)
[X] Tack Up (1)
[] Tail Strike (3)
[] Tolerance (2)
[X] Turn Right/left (1)
[] Vice Grip (3)
[] War Trained (5)
Inyala

[] Accept Noise - 2
[] Accept Bloody/Scary sights - 2
[] Accept Sudden movements - 2
[] Accept Darkness - 2
[] Accept Enclosed Spaces - 2
[] At Ease - 3
[] Catch -2
[] Climb - 4
[] Cover - 2
[] Danger Sense - 10
[] Dash - 3
[] Deceptive Lure - 4
[] Dig - 3
[X] Drop - 1 "Give me it"
[X] Ember - 2 "Ember" - Inyala snaps her fingers
[] Empathetic Link
[] Endurance - 4
[] Feed - 4
[] Fetch (??? Magical item) - 2
[] Forage - 5
[] Flutter - 2
[] Get (Nodes) - 1
[] Get (crystals) - 1
[X] Get (Charm) - 1 "Your Charm"
[] Guard - 5
[X] Hardy - 5
[X] Hold - 1 "Hold"
[] Hunt - 6
[] Labs Sign Language (30)
[X] Land (while swimming, go to dock) - 1 "Shore"
[] Lick Wounds - 3
[X] Location - 1 (Keep)
[] Location - 1 (Zanarkand)
[] messenger - 5
[] Nightvision - 8
[] Pinch - 1
[] Pummel - 3
[] Recognize Color (Red) - 1
[] Recognize Color (Black) - 1
[] Recognize Color (Blue) - 1
[] Recognize Color (Orange) - 1
[] Recognize Color (Yellow) - 1
[] Recognize Color (Green) - 1
[] Recognize Color (Brown) - 1
[] Recognize Color (Purple) - 1
[] Read - 5
[] Rend - 3
[] Ride On - 3
[] Run - 3
[] Scratch - 1
[] Search (Nodes) - 2
[] Search (crystals) - 2
[] Shred - 6
[] Silence - 2
[] Snitch - 6
[] Stay - 1
[] Stop - 1
[] Struggle - 0
[X] Submerge - 2 "Under"
[] Surf - 3
[X] Swim - 3 "Let's Swim!"
[X] Tread Water - 2 "Stay" (while in the water)
[] Write (15)
The wind whipped Ashe's hair into a wild frenzy, pulling at his clothes and his body as massive wings flapped on either side of him. The black Sarane beneath him was expertly judging the winds and selecting which currents to ride in, adjusting and compensating. It was a natural ability that Fafnir worked on each time he flew; and for this, Ashe was very grateful, because Ashe himself was no expert when it came to flying. They were over the city now, after having left Zanarkand, and it was midday so the sun beat down on them mercilessly as well. The man was pleased he had remembered his goggles this time, so at least the wind wasn't making them water as well, but that didn't do anything to help keep those rays at bay. Did they make tinted goggles? Ashe might have to inquire.
The trio, for Ashe was never complete without Inyala, turned and made for the Park, where the training of these monsters took place. From up here, Ashe couldn't see anyone or anything moving. Most of the park was under the cover of trees, though some clearings were bare, and he wondered if there were even people out with their beasties, would he be able to see them from clear up here? Maybe not. He was passing them regardless, heading to the far side of the Park instead of his usual. He had arranged a certain containment center for one of his creatures, and special transportation via tranquilizer. This particular monster wasn't new to Ashe, and he was kept in the forest at his own massive farm... But Ashe's farm had its own enclosures just designed to look like freedom.
Far below the approaching dragon's shadow, paced a two legged creature in a large barred cage, for lack of a better word. He was grumpy, a little hungry, and trying to figure a way out already.
Ashe: 0 1/10
Cha'ta: 0 1/5
Inyala: 0 1/5
Fafnir: 0 1/5