Post by Ashe on Dec 16, 2017 6:02:40 GMT -6
This is where any Miscellaneous training will take place that is not in any of the other areas. There is no designated area, as time spent here is normally chosen at random out of the vast open space that no one has claimed.
Anything posted after 5/15/10 will abide to this, and all else shall be kept simply for reference.
Misc Training
Hen Training
Drake Training
--
Trod Area
Equillion Corral
Unfinished training:
Currently training: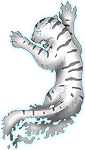 Last post located
here
"There's something else I want you two to both learn. It's sort of essential to battling, in my experience, and any of my partners that goes into battle will have this trained. It's pretty important to be able to read you opponent's moves. And if you can't see them, then at least sense where there attack is coming from. And dodge it. We'll start off easy."
Ashe was suddenly thankful that he had trained both critters something they could actually use to help this training along - he wouldn't have to do much, would he?
"When I give you the signal, Inyala, I want you to throw that ember at Genji, alright? We're going to start off easy, so don't throw it too hard, let him see it coming so he can move out of the way. Then we'll step it up."
Even as he explained this game plan to the Imp, the Shjin floated right beside them, so he knew the plan. The goal wasn't to surprise Genji, just yet, so Ashe didn't mind if he knew. He still had to do it!
Ashe snapped his fingers, a soft dry-skin rasp sound, and Inyala knew what to do. She snapped her own fingers, which made a louder crack sound, and a tiny flame shot through the air toward the Shijin. Genji, of course, side-stepped and dodged the fire.
"Good work, both of you! And again."
Ashe snapped his fingers.
Inyala 0 2/5
Genji 0 1/5
Ashe: 0 2/10
[Danger Sense 1]
"Great work, both of you! Genji, keep trying to dodge the attacks. Inyala, keep'em coming."
Ashe planned to take a backseat to this training, assuming he could get them working together. Inyala did as she was asked and tiny flames shot at the tiger, flying through the air in an arc aiming right for his body. The Shijin had no problem dodging these, at the slow pace she was throwing them. He side stepped, ducked, and dodged deftly, and after a few more ember attacks, he was getting kind of cocky. He moved the absolute minimum, testing his limits, fully confident in his abilities. Of course, as was bound to happen, the tiger slipped up and got smacked with a tiny ember right in the face.
Genji pawed at his face, alarmed. He hadn't ever felt pain before, besides Ashe's emotional turmoil. No, this wasn't coming from the human, this was on himself. The ethereal creature backed off, shaking his head, still pawing at his face. The pain was gone, the attack was finished, but it still felt like something was there!
"Pay attention, Genji!"
Ashe called from the sidelines. The tiger looked up just as more embers came sailing his way. Inyala was continuing her assault on him despite his wounds! The tiger nimbly jumped from side to side, dodging once again. A new determination was awakened in him and he stopped trying to show off. It
hurt
when he made a mistake! He'd do it right from here on out.
Inyala 0 3/5
Genji 0 2/5
Ashe: 0 3/10
[Danger Sense 2]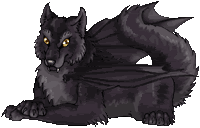 Raven
Level: 8.0
Loyalty: 16
[X] Sit (1)
[X] Follow (1)
[X] Lay Down (1)
[X] Tolerance (2)
[X] Accept Sudden Movements (2)
[] Accept loud noises
Here
[] Roll over
Here
[] No
--------------
The storm really hit when Ashe and Raven finally made it inside. The storm hit then - but the rain shower didn't wait, so both of them were rather drenched. Unfortunately, it wasn't summer and this wasn't a warm rain, so it also gave both of them the chills. Ashe had a jacket on, but once the water penetrated, that was all there was to it. He found a spot to sit down on the ground to watch the show, the view of which had as few trees in the way as possible, and Raven joined him. The big Vulticus laid down behind him but curled his body around so his tail was next to one of Ashe's knees, and his big head was laying in his lap from the other side.
And then, as previously stated, the storm hit. The rain pounded down harder, and thunder rolled off in the distance. "This will be your first storm out in the open, I think. Huh, Raven?" Ashe asked, petting his fur. Raven flicked his tail, signaling he heard, but he didn't reply otherwise.
Suddenly, there was a brilliant flash that lit up the sky. The jagged arc that cut the sky in half caught Raven's attention, but it was there and gone in a flash - and then the thunder cracked.
[Accept loud sounds - 1]
[Accept Sudden Movements - 9] (Already completed)
-----------
Raven got to his feet, ears perked up, alert and ready. A growl rumbled through his chest, and Ashe wasn't sure if he was going to bark at the movement of the lightning, like he thought it was a bird, or if he was upset over the sound. He waited for the next blast to come, and though it took a minute or two, Raven never sat down. Ashe watched him carefully, gauging his actions.
And then the next round came, with a flash of lightning the made it look like daytime, even though the world was covered in dark clouds. But it wasn't the lightning that caught Raven's attention, and he even ignored the late bunny that crossed in front of the cave in its search for the burrow. No, he was more focused on the noise, and when the thunder clapped, Raven was barking at it like a maniac.
"Raven, no!" Ashe said, trying to get him to settle down and stop barking. "No! Raven, Heel!" Ashe stood up, halfways concerned that Raven would run out there and chase the thunder giant or something stupid. But Raven seemed to be staying inside the cave okay, and he heard Ashe's command and came back to him, growling all the way.
Ashe: 0 6/10
Raven: 2 0/5
[Accept loud sounds - 2]
[Accept Sudden Movements - 10] (Already completed)
------------------------------------
--------------------------------------
Alright, the wings and the body were just fine! Though Ashe wanted to see one more thing. If he ever got to the point where he wanted to play-wrestle with Raven, as Ashe had done with Krow at one point, then he'd have to be okay on his back! Ashe knew some more dominant creatures didn't like the submissive pose, let alone having Ashe be there on top. So it was something that had to be done, had to be explored.
"Sit," Ashe said. Raven tilted his head, wondering what was up since the human was suddenly so serious, but he collected his haunches under him and sat obediently. "Lay down," Ashe said next, and again Raven found himself doing what Ashe had asked. He stretched out, getting comfy, then looked at Ashe to make sure he was doing what was asked. Of course he was, so Ashe scratched his ear.
"Now this is a little different..." Ashe murmured, pressing his hands on Raven's sides. "Roll over! Roll over, boy." Why not get him used to hearing those words, too? "C'mon, big guy. Rooooll over!" Ashe pushed, and pushed, and eventually the Vulticus gave in. He thumped his tail to show Ashe he meant no harm, and laid still to try to allow him to do whatever he had to do. "Good boy, Raven!"
Ashe: 1 3/10
Raven: 2 2/5
[Tolerance - 11] -- already completed
[Roll Over - 1]
------------------------------------
Currently training:

Inyala
Gender: Female
Cunning: 5 Sentient
Level: 121.1
Loyalty: 111.1
Type: Imp
Stamina: 1
Strength: 1
Resistance: 0
Dexterity: 4
Mentality: 4
Special Abilities: Flutter
Moves: Ember, Scratch
[] Accept Noise - 2
[] Accept Bloody/Scary sights - 2
[] Accept Sudden movements - 2
[] Accept Darkness - 2
[] Accept Enclosed Spaces - 2
[] At Ease - 3
[] Catch -2
[] Climb - 4
[] Combat Crawl - 2 (needs lay down)
[] Cover - 2
[] Danger Sense - 10
[] Dash - 3
[] Deceptive Lure - 4
[] Dig - 3
[] Don't Eat That - 1
[] Drop - 1
[] Endurance - 4
[] Feed - 4
[] Fetch - 2 (retrieves anything thrown)
[] Fishing - 5 (train with a spear)
[] Forage - 5
[] Flutter - 2
[] Get (Nodes) - 1
[] Get (crystals) - 1
[] Guard - 5
[] Hitch a Ride - 3 (needs Ride On)
[] Hold - 1
[] Hunt - 6
[] Labs Sign Language - 30
[] Lay Down - 1
[] Lick Wounds - 3
[] Location - Keep - 1
[] Location - Zanarkand - 1
[] messenger - 5
[] Nightvision - 8
[] No - 1
[] No Shake - 2
[] Pinch - 1
[] Pummel - 3
[] Quiet -2
[] Read - 15
[] Recognize Color (Red) - 1
[] Recognize Color (Black) - 1
[] Recognize Color (Blue) - 1
[] Recognize Color (Orange) - 1
[] Recognize Color (Yellow) - 1
[] Recognize Color (Green) - 1
[] Recognize Color (Brown) - 1
[] Recognize Color (Purple) - 1
[] Rend - 3
[] Ride On - 3
[] Run - 3
[] Scratch - 1
[] Search (Nodes) - 2
[] Search (crystals) - 2
[] Shake - 1
[] Shred - 6
[] Silence - 2
[] Snitch - 6
[] Socialized - 3 (needs at ease)
[] Stay - 1
[] Surf - 3
[] Tolerance - 2
[] Write - 15
[] Yes shake - 2