Post by Ashe on Sept 2, 2019 15:10:43 GMT -6
Dated: 09-01-19

A rather elderly looking individual is sitting near the board when you walk up. Using her cane, she is able to stand up surprisingly quickly. "Hey, yoo there dearie!" On closer look, she is a grizzled old panite, with short goat ears and a very goatlike nose. Her ears are long, almost falling to her waist in fluffy white curls. It occurs to you that her eyes are milky white; could she really just hear you coming?
"Willing to give a cooky ole lady a hand? I'm in need of a seasoned quester to help me out. You ARE a seasoned quester, right-o dearie?" She is turned toward you directly now, leaning crookedly over her cane. Her left hoof is held up off of the ground carefully.
"I love to grow bonzai trees around crystals in my garden; but it is surrounded by a big abandoned garden from some other folks that lived here a long time ago." She seemed a bit sad at this; did all of her neighbors move away? "The other day, one of my most precious crystal clusters was filched by the grandparent of all nyssa. Huge bugger; I could hear it from a mile away." She rambles for a moment, before she seems to remember you were there.
"Could you go looking for it and get my crystal cluster back? It must have went somewhere into that dangerous abandoned garden and then went to sleep. I can't hear it no more." She grins, toothily, at you.
"I'll be sure to make it worth your while, dearie!"

On the Board

In Order to Succeed: Search through the huge, twisted lot of abandoned gardens and locate this very old Nyssa. Once you do; you will need to somehow convince, persuade, or force it to give you the crystal cluster it stole.

Prize: Who knows what kind of reward that the old hermitess will give you?

Challenge Rating: Easy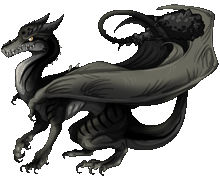 Ashe hated failing quests. He couldn't find that cursed Orbaru, damn it! So he had been almost sulking when he had come across the next quest; a little old goat lady asking for some crystals back. Ashe accepted, eager to reclaim his throne as a true Quester, and hurried home to get prepared for this. He had a brilliant idea. Since this was an old tree that stole the crystal, if he couldn't get it back the easy way (demanding it back) or the tricky way (sneaking up, stealing it, and running away!) then he would get to try the fun way (burning it to a crisp with a fire breathing pet).
It didn't take him long before he was soaring back over the questing board on the back of a large black Sarane. Fafnir's wings stretched, his legs dragged, his tail whipped behind him as he took a leisurely flight toward the gardens. His watchful gaze swept the land below, carefully keeping eye for any Drakes wanting to threaten him. He was brimming with confidence and the pride that only Drake Sarane could practically ooze with.
Inyala was seated between Fafnir's neck and the horn of the saddle, a little nook there that made it easy to hang on. It was safer, less windy, sitting there than on Ashe's shoulder as they flew. Before long, Ashe spotted the gardens beneath them and he signaled for Fafnir to begin his descent.
[count continued from last thread]
Fafnir: 0 1/5
Inyala: 0 4/5
Ashe: 0 4/20
1