Post by Ridelys on Sept 10, 2019 8:35:56 GMT -6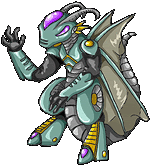 How was she supposed to know the city center had ordered live wire road work done that day. Seriously, for a recluse who was holed up in the kennels from a severe case of allergies, how was she supposed to know this. Talk through the walls? NO. Like a "regular person with an errand bot", she sent the droid out to deliver a small batch of toys for the unfortunate who didn't quite have enough credits to afford something. She believed that the individual, the same one she'd lent breaking gear to many months ago, would be at least starting a living for themself and going well enough. But the droid didn't initially come back from the errand. Next thing she knew, half the power on the block went out.
Uproars over the loss of precious electricity could be heard up and down the kennel block. Some people just needed candles or a flashlight, which Ridelys grabbed. She found her way out the door, all snotty and miserable, a wad of tissues in her pocket. Until the doors banged open and a very burnt smelling droid can rolling in, like a rickety old human.
By misinformation, it had stepped onto a live wire on its way back, and the resulting shock had killed the power in the kennel. The power got turned back on later that night, but when she was dictating out a list for the droid to pick up next, it only produced a dying hiss of static. The voicebox had been cooked. Well crap.
'I know nothing about these things...' she told herself, and there had to be a robot store around here someplace. Could she still run errands with a mute droid?
Never hurt to try. So she sent it to buy a set of miners tools, a list firmly in hand to give to the keeper, and a notesign written on its chest of the broken voicebox.
SOUND IS BROKEN, CANNOT SPEAK
The droid had been supplied with enough credits to buy, and was instructed to not attempt to barter. Not being able to talk was a problem.
[buying: mallet, shovel, pick, hard hat, flashlight, chisel, brush and tweezers
Total: 280c, no bartering
-Send to Flare]