Post by Ashe on Oct 1, 2019 16:35:02 GMT -6
Dated: 10-01-19

An rather well groomed individual (your choice of gender and race) is putting a fancy flyer up on the board whenever you come near. They turn to you and grin. "You must be a quester! Give my flyer a read, will ya? I'm looking for fine help this month." At this, the individual looks down at their watch and then says- "Oh, I'm late!" And then power-walks away. What was that all about?
The flyer is offering a grand reward that is quite unspecified for someone to go out to the individual's summer home, where they breed pocketpets as a hobby, and camp out in the yard (which is apparently huge) for a while to watch their mate's workshed. Some kind of animal is getting into the workshed at night and making off with their important tools!
The flyer explicitly states that they don't care if you kill the beast or simply dissuade it. As long as it stops pestering in the workshed, you will get rewarded!

On the Board

In Order to Succeed: Camp outside of this individual's estate for a few nights and see if you can't figure out what kind of creatures are getting into their workshop and stealing all of their mate's shiny tools; then figure out how to fix the issue.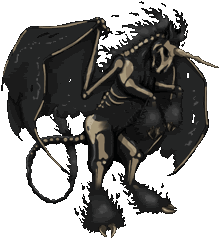 "I don't know, man, we're just supposed to camp here, I guess,"
Ashe was saying, walking alongside his skeletal Equillion, Maverick. The stallion gazed around, robotic eyes glowing in the dim evening light as they zoomed in and zoomed out, checking the perimeter. There was the shed, there was the house... Nothing else was moving out here. Satisfied, Maverick's gaze turned back to Ashe. They were going to set up camp a little ways away and at an angle, so they could see the shed just fine and watch the entrance, but not close enough to scare away whatever it was. The goal here was to capture, or beat up if the case may be. If they just blocked it for a couple of days, it would surely resume right after they left, right?
"They did not tell you what manner of creature might approach?"
Came the throaty growling voice of the stallion. The collar around his neck gleamed slightly in the moonlight, as did the charm wrapped in an intricate pattern around his tail. He might be even smarter than Ashe, now, and he was able to speak just as well, both telepathically and verbally. If only they made these cool upgrades for people!
"Nope. Just asked us to park our butts here and wait. So hopefully no one in the family comes out to the shed for a late night peep, or else they might shit themselves."
Ashe chuckled a bit, starting to unroll the sleeping bag he'd brought. He had a full tent, but he didn't want to be too suspicious. A black tattered sleeping bag would be less noticeable in the dark. He straightened it out, patting it down, and Inyala hopped off his shoulder to help. She patted out the wrinkles, having a little too much fun in doing so, then sat on it to turn her attention to her master.
Inyala: 0 1/5
Maverick: 0 1/5
Ashe: 0 1/20