Post by Ashe on Oct 3, 2019 21:40:48 GMT -6
Ashe
Magic
Stamina: 3+3=6
Strength: 4
Resistance: 3
Dexterity: 3
Mentality: 3
Abilities: Swim, Danger Sense
Moves: Climb, Holy Shield (once per day on accident)
9 Hollow MP
9 Shadow MP
2 Wind MP
-For Ashe-




---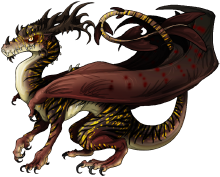 Level: 15
Loyalty: 15
Stamina: 9
Strength:
8
4
Resistance: 6
Dexterity:
4
2
Mentality: 3
Special Abilities:
Fly,
Cave Crawler, Commanding Presence, Electrical Resistance, Fire Resistance,
Acid Fang,
Acid Resistance
Moves: Climb, Gash,
Bite,
Horn Strike
, Call Lightning, Bio Pulse, Crippling Poison,
Envenom
Trained: Struggle (0), Bite (2), No Bites (3), Tolerance (2), Tack Up (1)
-For Hobgoblin-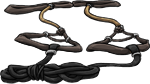 The little bugger had finally grown up. Ashe's little mining buddy, Goblin, was now a lanky, mean, scary brute. Ashe was no stranger to the "puberty" drakes went through and had broken two champions so far, but this was different... So much younger, and already
bigger
, Goblin was quite the intimidating force. He had large antler-like horns, a vast wingspan, sharp claws, venomous fangs, and the rudder tail that meant he would also be faster in the air than a normal Sarane. What the hell kind of beast was this.
Ashe had arrived early, his girlfriend Vix in tow with Inyala. He wasn't sure if she was going to actually watch him or just hang out in the building, but he entrusted the blue Imp to her. She'd be within his 'aura' distance, though safe from harm. He couldn't bear it if Goblin did anything and hit Inyala instead! So he'd waved farewell to his two loved ones and went to mount his sedated Drake.
When Goblin came to, he was not happy. Spoiled brat was used to getting what he wanted when he wanted, or else he'd take it. And it was time to learn he couldn't just take it from Ashe. He'd upgraded himself, too. He now had magic, he had a charm around his neck, and he was ready to force this Drake to bend to his will. Then the real training could begin! Ashe pushed his heels down, his butt going deep into the saddle, one hand pushing forward on the horn to keep him that way. Let the bronc riding begin!
[No RP please, ready]