Post by Ashe on Oct 10, 2019 23:13:47 GMT -6
Welcome to the Corpse Construct Growth Tutorial!
Vai Min Mur is always in the air with these delightful beasts! Enjoy the fright all year round with your very own Corpse Construct! These beasties are ravenous in their youth, starting as some bones and slime and soon gobbling up enough to form a body. As they reach adulthood, the observant owner might notice differences starting to pop up - namely that these creatures have started taking on the traits of the creatures they have eaten! Is that a hoof? Is that a wing? It's hard to force certain traits to take hold, so feeding them specific things might not get the desired effect you want...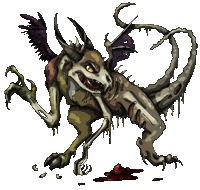 But what's next for these bottomless pits?
Legend has it that if they manage to eat five special pets (ie, paid for pets like VSC, Custom, Offspring, etc, but not freebies like Pachee or Orbaru), they might just grow even more grotesque! This is not for the faint of heart and it can be quite traumatic for all involved. Once these pets are eaten... They are gone. Forever. Once the Corpse Construct has devoured and assimilated 5 pets, please post in the correct
Requests Page
with links to the five, erm, meals.
Now, how do you get five pets to volunteer to be eaten? You may
not
eat another player's pet at random. You may have your CC eat one of your own pets, however. Once you have found a pet to be eaten, you need to start a thread in the Fighting Pit and title it "Corpse Construct Battle". You may have your TROD, or another player, RP the main course. A staff member will reply to your thread and treat it just like a battle. For normal battles in tournaments, untrained pets (Sarane excluded) aren't allowed in:
This is waived for CC Battles!
This process is basically like feeding live prey to a pet snake. Other characters IC may judge you morally, but Corpses need to eat, too!
For Corpse Construct battles only, you may devour a creature after it has been knocked out! This is outlawed in PvP battles such as tournaments, but when the goal is predatory and the decision is mutual, there will be no immediate healing from the Pit Staff.
***Please note: Due to the sheer power of these creatures, at this time each
character
may only have up to
two
Final Form Corpse Constructs.
---
Summary:
1) Train a Corpse Construct "Devour".
2) Locate 5 different "paid for" special pets, such as Customs, VSCs, and Offspring to be eaten.
3) 'Battle' these special pets with your Corpse Construct.
These must take place in the Fighting Pit for recording purposes!
4) Have your Corpse Construct devour the pet before, or right after, the knock out.
5) Post in the requests forum with links to all 5 instances.