Post by Amelia on Oct 24, 2019 14:18:43 GMT -6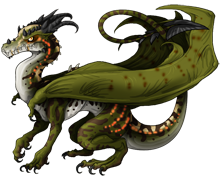 The mammalian immediately regretted buying the adult drake. He was unbroken, and would last that way forever. This meant he was not friendly in any regards to her, and he had zero interest in being part of her life. This was not something that she enjoyed, and she secretly wished she could bring him back. The owner was somebody who took good care of the drake, but no longer could keep him. The owner had said nice things prior to her purchase, and now she realized that these things were not going to be beneficial for her. She couldn't even break him in this state, because technically she would just fall right through him. How she had brought him to the Herbarium was honestly a mystery to her, and she struggled with the drake as she moved into the area. The metal doors gave the familiar beep as the drake entered as well, so clearly he was sensed in some regard. He growled and thrashed about. She had things strapped to him to keep him from biting and thrashing too much, but even breaking gear wasn't going to help much in this situation. The corridor didn't have much to offer, and Amelia moved quickly as the drake followed after her. Perhaps he seen her as a potential meal just walking away.
Entering into the Herbarium was quite nice, and the soft swish of the doors welcomed them into a warm, moist area. This felt like an area where plants could flourish, and she hadn't even seen much yet. She turned to the left into the sunlit room, her eyes focusing on many of the growing plants. She stood on the moss, feeling the soft indent further into the ground as she took each footstep. She was careful, afraid to somehow wreck things as she walked. Vudu was now interested in other things, and the drake wandered around, sniffing and looking at the plants. The drake growled angrily at the walking tree stump, and Amelia was shocked in herself to see such a creature. Was this what the drake would look like? It looked like a Thundergug, but so much different than the ones that she owned.
The friendly botanist greeted her, and she was quick to take her seat. Vudu moved after her, still interested in things that weren't her. She smiled as the woman spoke, and finally it was time for her to explain her purpose.
"I hear you can help me. See, I bought this drake. But he's Ethereal, which basically means its impossible to touch him or do anything physical with him. But I understand this place can change him. He already has such earthy tones, I am sure adding a touch of plant life to him would make him even more incredible."
He snapped at the botanist, before turning his attention to something else.
"I apologize for his behaviour. He's an adult unbroken drake, and until I can break him he's going to be less than friendly."
She smiled weakly. The mammalian knew that there would be more questions, and unfortunately she didn't even really understand how plantification worked. She understood he would have a physical body to him, and therefore he could be broken. She also understood there would be a lot more changes than just that.