Post by Darky on Nov 6, 2019 16:44:06 GMT -6
Bit of a rain on the parade in the other one, so let's try this again, with more feeling (and less draconics) x3 Anyone who entered, feel free to reaffirm your interest, since its a little different now.

I'm not sure how many people remember when in the past we had those 9 baby crossbreedings.
How about 10? 15? 20?!
The initial $40 is fully covered by yours truly. That's right, this is a three parent cross.
Holy candles batman, there's a catch!

Yep, and that is... IT'S PUBLIC.

So what is this beautiful nightmare of prolific nature, you want to know?

This is a cross of dragons, for dragons and all ABOUT DRAGONS! A potentially sentient cross of several dragons to make the other side of the war concerned and side eyeing us! In utter jealousy of course.
TAT-LUNG x CHAOSDERG x WIURN
Parents: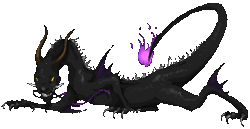 ONE TATLUNG
(won't carry you, but still a magical beast of kickarse, and can both swim and fly)
Cunning: 6 Mystic
Average Top Speed: 30 mph, 100 (flying), 60 (swimming)
Power Levels: 1 (baby), 3 (juvie), 6 (mature)
Notes: lv 5 to train, loyalty 10 to respect
Stamina: 5
Strength: 3
Resistance: 7
Dexterity: 10
Mentality: 5
Special Abilities: Swim, Fly, Telepathy
Moves: Dodge, Bite, Nightmares
ONE SARANE
(gladiator derg who isn't smart enough to care about whether or not its a good idea to let you ride it, but can)
OPEN FOR APPLICATIONS, TIER DOES NOT MATTER
A 1 injection parent is fine, no maxed out injection offspring if possible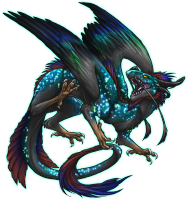 CHAOSDERG

Cunning: 4 Beast
Average Top Speed: 20 mph, 75 mph (flying)
Special Requirements: None
Size Chart: 4
Power Levels: 4
Notes: Loyalty 15 (to tame)
Stamina: 5
Strength: 4
Resistance: 3
Dexterity: 6
Mentality: 2
Special Abilities: Fly, Prismatic Refraction, Electricity Resistance
Moves: Gash, Peck, Sonic Blast, Chain Lightning, Chaotic Heart


AND A WIURN
(not the smarted derg, but certainly adds some BEEF)
OPEN FOR APPLICATIONS, V.2 PREFERRED

Cunning: 2 Critter
Average Top Speed: 20 mph, 80 (flying)
Power Levels: 2 (baby), 4 (juvie), 6 (adult), 8 (old)
Special Requirements: None
Notes: None
Stamina: 13
Strength: 10
Resistance: 9
Dexterity: 5
Mentality: 3
Special Abilities: Fly, Bloodthirsty, Survival Instincts, Intimidation
Moves: Rend, Stalk, Pounce, Breathe Fire, Flame Bite, Regenerate, Explosion

Keywords:
Ultimate Dragon, Magical, War-like
PEOPLE IN:
- BD for 2 beebs
- Darky for 2 beebs
- Aster for 1 beeb
- Riku for 1 beeb

- Leafy for 2 beebs
- Haix for 1 beeb

- Vixen for 1 beeb

- Twilight-Claw for 2 beebs

Our main desire is that we get as many people in on this as possible.

Who's up for shaking the world as we know it?
Deadline for joining is the 10th of November, so we've got all week to brainstorm and gather monies and people.

How do we pick babies? I have first pick, Darky has second, the sarane/wiurn owner has third/fourth depending on who enters first, and Darky and I will take our second picks from the leftover. Picking order is the ORDER YOU JOIN THE CROSSBREEDING. If you want multiple babies, you can but your second pick is also from leftover.
Picking Order
1. BD (1)
2. Darky (1)
3. Leafy (1)
4. Aster
5. Riku
6. Haix
7. Vixen

8. Twilight-Claw (1)

9. Leafy (2)

10. Twilight-Claw (2)

11. Darky (2)
12. BD (2)