Star
Feb 26, 2020 5:25:36 GMT -6
Post by Star on Feb 26, 2020 5:25:36 GMT -6
Name: Star
Species: Tat-Lung
Gender: Female
Age: 11 (Jan 12th)
Languages: Common
Appearance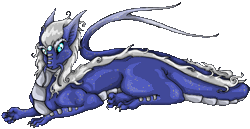 I don't think I should have to explain this, but just in case I do, I am a Tat-lung. I most closely resemble my mother, with some traits inherited from my father of a rare and prestigious lineage.
I am small for my species at just a bit more than a head taller than an adult human in my natural stance. If I were to sit upright on my back legs, I am easily twice as tall as a human if not more. However I prefer to stand on all fours most of the time. I am long and slender like a twisting ribbon in the wind. My long tail is double the length of my body and branches off into two thin points.
The scales on my body are dark blue like the deep night sky and are gently speckled with little sparkles which resemble stars. I have a flowing silvery mane around my head and down my back which glitters in the light. The larger scales that cover my underside and parts of my arms and nose are a soft blueish grey which is somewhere between the color of the sky and the color of clouds. My long ears and the tips of my tail fade gradually from azure to silver.
My eyes are large and bright blue with slitted pupils. They fill most of my face. I have a rounded snout with a triangular nose and short whiskers. A small turquoise gem is set in the space between my eyes. It might look like a decoration, but it is a part of me, serving as a hint to my unique and powerful heritage.
I always wear an elaborate magical necklace which grants me the ability to speak the human tongue. My voice is like that of a gentle song interlaced with chimes, at times as delicate as a breeze and at others like the harshest gale.
Personality
I am not a humble creature, and I don't think that any Tat-lung is. We are a proud and powerful race, deserving of respect and admiration. I ask only that people respect me, and I shall respect them in return. I loathe the idea that people might think of me or my species as a mere pet, and I will swiftly correct any hint of such backwards thinking.

I am, like many of my kind, exceptionally clever and capable of great things. I enjoy the pursuit of knowledge and engaging in puzzles and riddles. I often explore in order to discover new things and expand my worldview as well as my riches. I am constantly looking to challenge myself and add to what I know and understand.

I do not think I am hard to get along with, though I can be particular. I find people to be a bit strange and often silly, but I do like to have friends that I can speak to. I can even be persuaded to share my wealth and power with someone particularly exceptional. I am not totally stingy, after all!

My desires in life are simple but enduring. It is my ultimate goal to accumulate riches with which to build my hoard. One day I will lay upon a wealth of gemstones and live in comfort and peace. I am raising strong allies in order to protect me and my fortune.
History
Many Tat-lung are created by that laboratory that looms over the city, but I was hatched from an egg laid by my parents. I've never met them, but I do have an idea what they must have looked like. My egg was purchased (I like to think it wasn't stolen) by a human, and I hatched in his care.

I grew up in a pool in a garden where I often longed to get out into the world. I loved to study the ever changing night sky, even back then. On a day I will never forget, the human gifted me a necklace which allowed me to hear my own voice for the first time. I had not yet mastered the art of flying at the time, but it was enough to remove myself from him forever and start my own journey.

Goals
- Curate a respectable hoard.
- Lay upon a bed of gemstones.
- Raise powerful creatures as allies.
- Learn more about the perplexing world of people.