Post by Darky on Mar 1, 2020 1:02:56 GMT -6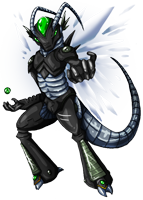 It had been some time since the droid had last visited the ramshackle shop, but the sound of her steps upon approach were rather unmistakeable - a steady rhythm not once even deviating from its motion, with a slightly heavier fall to it than normal. At the door, there was a knock (something new the droid had finally learned), before it was opened and entry made. Sha'Nepti walked up towards the counter in the same rhythm steps before finally coming to a halt. "Good day," the voice still as tinny and light as before, just that one little lilt shy of off-putting. "I am here to perform a trade, object for object." From the bag, the droid produced a pouch, the contents of which she took out to place onto the counter with the measured accuracy of a mechanical being.

The last time she had been here, it was a first time encounter with this particular shopkeeper and not much had been gleaned from the process. This being a secondary visit, the gleam of the droid's green optics seemed sharper than before, trying to decode new information in order to improve her data-banks of this.. individual. Sha'Nepti was well aware her knowledge was very much limited to a certain range, due to limited exposure to different environments, so the concept of the unknown didn't bother her any more than any other pre-programmed robotic being. However, there was a strange formation within her subroutines that seemed to create a sense of error when she came faced with an individual who was Unknown for all intents and purposes, and her perceptive processes seemed unable to rectify that. One could have called almost called 'a frustration of curiosity'. Almost.
"These two red stones, origin: mines, estimated combined worth of 40 credits. To be traded in for: one earth crystal. This green stone, origin: mines, estimated worth of 25 credits. To be traded in for: one amethyst crystal cluster. Does this suffice?"




Trading:

Rose Quartz, Red Gem, 25 c



Crabfire, Red Gem, 15 c
Trading:

Heliotrope, Mines (Any), 25 c

Buying:
Earth Crystal
Value: 40
Seeking: Mines (Red)
Buying:
Amethyst Crystal Cluster
Value: 25
Seeking: Mines (Any)

(1)