Kodakai
Mar 5, 2020 21:34:34 GMT -6
Post by Kodakai on Mar 5, 2020 21:34:34 GMT -6
Name: Kodakai
Lineart: Naniyesh
Gender: Male
Age: 13
Languages: Common, Draconic
Soulbound With:
Silver
Description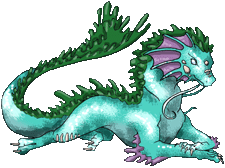 Kodakai is typical of his species. Not including his long tail, he is about as tall as a human. He walks on all fours and cannot stand on his hind legs easily. Upon closer inspection, his pebbly scales have a faint rippling pattern in varying shades of teal to help him blend into the water. They fade to a lighter color on the belly to mimic sunlight filtering through the waves. The scales on his face are dotted occasionally with larger pearlescent ones which shimmer in the light.
Everything about him evokes images of the ocean and the life within it. A seaweed-like mane sprouts out of his forehead and continues along his back to the tip of his tail where it branches out significantly. It sways slightly as though it is being pushed and pulled by an invisible current. On his elbows grows a knobby purple fire coral, and he has large decorative fins in the same color on either side of his face. He likes to say that his whiskers get a tiny bit longer every time he learns something new, but that's probably just a joke he's been playing on his children all these years.
Since he spends most of his time pouring over books instead of going outside, Koda is not very physically intimidating. In fact, he has gained a bit of weight in recent years. He is agile for his size, though, and swims much more gracefully than he walks. He is definitely most at home in the water and appears a bit stiff or out of place on land.
His cloudy pale blue eyes hint at great wisdom.
Personality
Kodakai is clever, reserved, and patient. He doesn't like to express strong emotions if he can avoid it. Curiosity has been his main motivator since the day he hatched, and he spends most of his time studying and acquiring knowledge. He will go to great lengths to learn something new or confirm a suspicion he has. It is this pursuit of the unknown that has brought him to the city where he can study the habits of humans and the creatures that they keep.

His speech is rather formal, even toward those he is close to. He is always polite, especially when interacting with someone of a different culture. He is nearly endlessly patient with others, no doubt something he learned while his equally curious daughter was young and chatty. He prefers to go with the flow and not let things bother him. He often acts as a resilient voice of reason when Silver needs one.

Family is very important to him, and he adores hatchlings. When he's around children he turns into a big softie who tells bad jokes and embellished stories. He would do anything for his family, especially his bonded. Since he does not have that much in the way of intimidating physical features, he relies heavily on his magic to keep himself and his family safe.
Goals