Post by Fiera Ferella on Mar 6, 2020 12:20:47 GMT -6
Pachee Breeding Contest
A new round of the pachee breeding contest has begun! For the month of June, (6/8/2020 to 7/8/2020) you can submit your entries! All you have to do is breed a pachee as close to a theme as possible and submit it for the chance to win a prize!
The current contest will run from today's date (6/8/2020) to July 8
to ensure that everyone has plenty of time to complete their breedings! This month's theme is "
The Four Elements
"! Feel free to submit any pachee related to rocky earth, flowing water, crackling fire, and soothing air! Are you going to pick one element? Or a clever combination of them?
Furthermore, in celebration of this event, you may use any of my pachee that I own (
Male
,
Female
) for free in place of your own if you don't think you have enough, or if the ones you do have don't quite work for the theme. Please be reasonable about this though- only breed them if you have the intent of entering the offspring (or the offspring of that offspring, etc.), and not because you want to remove options from other people or get a bunch of fancy pachee for yourself with no intention of entering them.
Rules
1. All pachee entered must be offspring. It cannot be a custom pachee, and if it is the offspring of a custom pachee, that custom cannot be one bought after the contest's start date.
2. You must be the one who bred the pachee, you cannot hire other people to do it for you and you cannot buy a pachee from someone else to submit it.
3. The pachee must be bred during the time frame of the contest. You cannot enter a pachee bred before the contest's start date and late entries will not be accepted, even if the winner hasn't been decided yet.
4. You can only enter one pachee. However, you can switch it out as many times as you like before the finish date if you breed one that you prefer more!
5. This isn't required, but feel free to tell me what you were going for with your pachee! If the theme is 'Floral Takeover', feel free to say 'I bred this one to be the color of a rose petal' or 'the color scheme is the same as a sunflower', or 'the multicolored spots over the green background are supposed to be representative of flowers on a field'. Get creative with it!
6. The number of generations doesn't matter- you could breed two basic first generation pachee and enter the resulting offspring, or do multiple really intense, multi-generational breedings over the course of a month to get the perfect offspring. It doesn't matter, so long as it matches the theme!
7. I realize this is a very subjective contest, but my decisions will be final. Just because your pachee didn't win doesn't mean it wasn't a good idea! Everyone gets a prize in the end.


Prizes:

Everyone who enters will get a colored doodle of the pachee they entered drawn by yours truly. The grand prize winner will get a custom pachee from
The Rainbow Factory
that I will pay for. The custom can be whatever you want and doesn't have to be related to the contest's theme. There will also be two runner up winners that will get 150 credits each.
Previous Winners
March-April 2020
First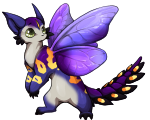 Runners Up