Post by Adam on Mar 8, 2020 4:16:26 GMT -6
Eventual items of usefulness
Guarded by: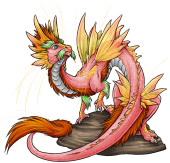 Wyatt
(Why-eht)
Biology: Gentle fey-spirits with a hint of mischief, a whole lot of vanity and sense of companionship - if one knows how to properly handle them, that is.

These half-breeds may look the frail and fragile sort, but thanks to their faeron inheritance are a fair bit more sturdier than their small frames would make it appear, to the point it might not necessarily seem physically possible. All the same, what they are able to endure does not go hand in hand with what they're willing to endure - their whiskers are their pride, joy and a very sensitive sensory apparatus, said to help their latent psychic powers. An owner able to respect that and show them the proper gentleness in touch and handling will be well rewarded with their trust.

Breed: Fey-Tatling
Cunning: 5 Sentient
Top Speed: 20 mph, 50 mph (Flying)
Requirement: Level 5 (train); Loyalty 5 (trust)
Size: Medium Cat
Power Levels: 3
Gender: Male
Loyalty: 0 | Level: 0

Stamina: 3
Strength: 2
Resistance: 2
Dexterity: 5
Mentality: 3
Special Abilities: Fly, Physical Resistance
Moves: Dodge, Telekinetic Powers, Leaf Storm
Taught: none
However, anyone who so much as once happens to injure a single whisker, accidentally or otherwise, will be scorned on the spot with no hope of redemption for a long time. Much like their tat-lung parent, they do not so easily forget, and less so forgive such a grievous slight. Beyond that they happily spend their days playing, masking such large worries in a carefree façade. They enjoy perching on top of things, ever to be higher and higher, and though they are capable of flight, they much prefer to be sitting on something tall to carry them around, such as humanoids, as to better conserve their energy. A sharp wit and clever mind can make them adequate pranksters as well, though they rarely take anything all too far - a simple knot in one's hair, the switching of foods, an item stolen only to be placed somewhere high up where it is difficult to reach.. Things in that kind of vein. Because of this, a good owner will need to be very patient, very careful and gradually get to know these creatures before they're willing to lend some trust in return. After all, despite such a small form, they are still individuals in their own right.
Food: