Post by Morgan on Mar 8, 2020 21:31:15 GMT -6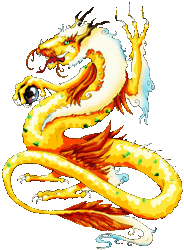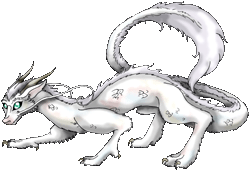 The dream is not a confusing thing, though it is new, to both of them. Are you sure? The golden asks, standing still, stark still, nervous. The Pearl tilts his head a huff leaving him before he conveys back Do you think I'd let you initiate this if I didn't want to, Ryuusei? He says more than asks, his voice harsh. The pair almost instinctively know where to go; this is indeed the way of their people.

At the 'go south' the pair continue on, bickering the entire way over this and that. However, it is obvious to the astute that they do love one another (they pined forever and ever, every since they were young, but never thought, not once, that the other may-) since they brushed or intertwined their tails every now and again before the Pearl seemed to come back to himself and flush, pulling his tail away only to find himself doing that again and again.

I don't want you to do this just because you know I want it. The Gold says, just before they were to stand in front of the arbitrator.

Don't patronize me. The pearl warns.

They are quiet again, between banter, and finally, finally stand before the arbitrator- who has asked the question.
So you are sure you want to do this? Ryuusei asks, standing before the arbitrator and leaned in, gently, conspiratorially whispering, his forehead to the forehead of his pearl companion's.

...Yes? The pearl replies in turn, his conveyed 'voice' stronger but obviously a little more tremulous hidden behind it.

Seimei, my love, are you sure? The golden asks, once more, with more conviction, and he is answered with a full-bodied shove by the pearl, and a flap of a tail fan as the pearl tat-lung snarks back YES I am SURE GET ON WITH IT. The pair snarl, slightly, before it turns into a soft thrum as they pair gives another awkward cuddle with the golden being much more happy and cuddly and the pearl being quite obviously embarrassed with the closeness. You know how I feel about displays of affection in front of others... He scolds.

This isn't in public. The golden declares to him, and he receives another flushed shove that was obviously a little more affectionate than the last. The pair obviously cared about one another, even if they had a weird way of showing it.

So, do they accept this? Did they come of their own free will? To honor the old ways and be responsible for new life in their union?

We do.
The way of dragons is not the way of humans, but it would seem that Morgan's incessant reading of those dumb romantic adventure novels to them had done a little bit extra to impress on both of them the hearts of absolutely ridiculous romantics despite being above 'such base and ridiculous things' as Seimei would put it.

This was another of their puzzles, of their games that they loved so much- but it was one they were more than happy to play together. It was the happiest they had been so far, and Seimei secretly was sure that whenever their children were born, that they would find out another type of fulfillment and happiness. Ryuusei was a little less prepared than he thought- but he was always one for a new adventure.

The pair tossed their coins into the pool, and found themselves completely unable to tear their eyes from each-other. A whole new life- just waiting for them.