Post by Riku on Apr 22, 2020 5:20:50 GMT -6
Stats: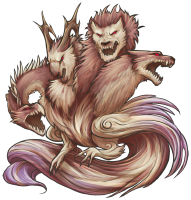 Crossbreed: Stormera
Cunning: 3 Animal
Average Top Speed: 50 mph, 60 (flying)
Special Requirements: None
Power Levels: 4
Notes: None
Stamina: 6
Strength: 4
Resistance: 3
Dexterity: 5
Mentality: 2
Special Abilities: Float, Double-Headed (x2)
Moves: Envenom, Harsh Gust
Size Chart: 3
Biology: A veritable storm of claws, these halfbreeds have a difficult time seeing eye to eye with their own selves as each head vies for supremacy over the others, seeking control over the body as one being. Certainly, all heads have command of limbs and movement in equal measure, the struggling between the different pulls generally off-setting one another enough to allow them to walk and move without much difficulty and in the (overall) general direction, though honestly they much prefer to float than drag their feet and body along the ground. Given enough practice, it may even very well work to get their body to remember how to fly proper.
Physically, the body is formed of wispy, soft down-like material that is best described as solidified air. While it allows the creatures to make some adjustments to their physical form, they still lack the arcane strength to alter themselves greatly. Their sustenance comes between a mixture of absorbing air currents and eating meat. Though conflicting and ever at odds with one another, one should truly fear moments when all the heads find common cause, as usually these halfbreeds become their most terrible and potent in such instances.. Much of the consciousness is divided into parts between the four heads - the pronged ungulate is boisterous and loud, with a tendency to guarding as well; the maned lion is fierce and terrible, yet cautious and cold; the fanged wolf is swift and cunning, but rash; the last head tends to slumber and rest, saving much of the energy that the other three spend. And should it stir, well.. You do not want to wake the dragon.
I wanted to clarify a few things:
1.) The last sentence of the first paragraph states it can be taught to fly. Darky confirmed this from their artistic intention, and I just wanted it staff-confirmed officially.
2.) Double-Headed x2 (DH2) means they can potentially make four head-related attacks in one turn, with 50% chance of being confused. Darky did not deny this, but they also did not directly confirm their intention.
3.) Does DH2 mean that the heads can perform different attacks? For example, one using roar, one using envenom, and two using crunch?
4.) Also, can this be downgraded to DH1 so that two heads intentionally don't attack while only two heads do, reducing the chance of confusion to 25% as per the standard?