Post by Alma on Apr 22, 2020 19:59:31 GMT -6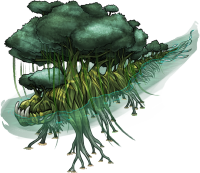 Name: Marsh
Level: 5.0
Loyalty: 5.0
Gender: Male?

Half-breed: Mangrove
Cunning: 2 Critter
Average Top Speed: 35 mph (swimming)
Special Requirements: Level 5 (to train)
Size Chart: 8
Power Levels: 8
Notes: None
Stamina: 9
Strength: 12
Resistance: 10
Dexterity: 6
Mentality: 3
Special Abilities: Aquatic, Chlorophyll, Jungle Dweller (Water)
Moves: Root, Depth's Hold, Drown, Spore, Wave of Muck
Biology: There is a saying, which says: a rolling stone gathers no moss. Evidently it is not the case with floating stones, or rather, floating wood. Broad, heavy, incredibly large and impossibly strange, these half-breeds are no easy task for most trainers to take on. Even those who could claim extensive knowledge of either the pliathor or nyssa (or both) would find themselves at odds and ends when it comes to taming these flotilla forests. Mostly because there is nothing to, technically, 'tame'.
These guys have few enough needs and almost next to no requirement of care, so long as the waters in which they're situated have a nutrient rich floor. Most of the time they do not even move, or if so very gradually, preferring to have the currents slowly push them along, making small adjustments along the way. They feed on the sun and what minerals they can absorb from the river- and lakebeds through their roots, stopping only to dig themselves in for a feeding or resting.
Too large for most things to prey upon, too tough for others to even bother with, these half-breeds have next to no natural enemies and neither do they hunt for anything or -one themselves. Thus, a trainer who hopes to bond with one such beast must first manage to even achieve its attention - a task all the more difficult seeing as they seem more interested in what is below water in the sands than anything shouting words at them from the shore. But, patience and careful study can give a good enough trainer inklings on the mindset of these beasts. For one, their passive nature exists only so long as they are not irritated. It can take a while to force them from that state. This does not mean they are above acting upon it once they are.. After all, what better way to enrich soil than with organic matter?
Training List:
[?]-Danger Sense(10)
[?]- Hardy(5)
[]-Mindless Grind(Eternity)