Post by Ridelys on Jun 12, 2020 10:50:24 GMT -6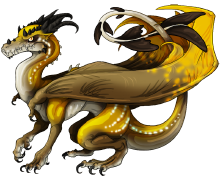 Banana has a more brutish jaw structure then most sarane. Think about a guardian dragon from Flight Rising, with a slight underbite. The lower mandible is thicker, the lower canines are thicker, more tusklike.
He's based off a basset hound. Shorter legs, stouter body.
He is a simple mindset and acts like a dog.
Owner Name: Ridelys
Pet Name: "Build Absolutely Nothing Anywhere Near Anything"
Level: 15
Loyalty: 15
Stamina: 8
Strength:
7
4
Resistance: 5
Dexterity:
4 (+2 if Flying)
2
Mentality: 3
Special Abilities:
Fly
, Forest Dweller, Electrical Resistance
Moves: Climb, Gash,
Bite, Horn Strike, Call Lightning
Items on Banana: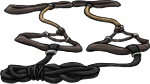 Items on Ridelys:
Ridelys Stats
Stamina:
3
6
Strength: 3
Resistance: 3
Dexterity: 4
Mentality: 3
Character page
Combat

Zheh'Riou
- Ridelys
( Spear - Hunting Spear )
Power Level: 5
Hands Used: Two
Distance: Melee, Close
Damage: 1d8 (piercing)
Dice Effect: +2 to "chance to hit" or "chance to defend"
Magical Effects:
- Damage II: +1d6 physical (Power 2)
- Damage II: +1d6 wind (Power 2)
- Damage: +1d4 cold (Power 1)
It was all too soon. Perhaps it was a switch in his head that suddenly got turned. She'd been giving Banana a good belly rub when something caused him to sneeze rather forcefully, and to her surprise, just like Queenie, his tail sprang open and showed the glorious rudders of the gold breed. A nice rich brown color. But he got super nippy after that day. Suddenly gorging on his food and spouting like a weed. His horns grew in, his wings grew big enough to fly, and she had to avoid being cuffed every time she tried to get near. Think a very territorial dog. Barking and snarling at the other creatures in the kennel, Ridelys had no choice but to sedate him. It was finally time, it seemed. His hormones were getting out of control, and if she didn't get to the point of breaking him, she might get killed, or Caiman would swoop in and murder him in cold blood. Blood relation or not, he did not care.

Trussed up like a turkey in his sleep, Ridelys had to transport him, under Caiman's watchful flying eye, to the pit. Her spear in hand. With luck, she did not have to do this to him. It was... heartbreaking. Time to get on, and do this.

-ready! Rp if you wish, personality is above-

15 4.5