Post by Jack on Jan 3, 2018 11:37:14 GMT -6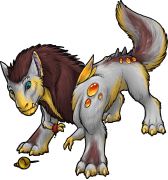 Half-breed: Taticus
Cunning: 4 Beast
Average Top Speed: 30 mph, 15 mph (swim)
Special Requirements: None
Size Chart: 3
Power Levels: 4
Notes: Gains loyalty at twice the normal rate.
Stamina: 5
Strength: 5
Resistance: 4
Dexterity: 4
Mentality: 2
Special Abilities: Pack Instincts (Sentient), Swim, Speak
Moves: Bite, Howl, Sparkling Dust
If at first you don't succeed, try, try again; don't give up too easily, persistence pays off in the end.. this time with arms.
If there's one thing to really cause these creatures discomfort, its a set of matted hair which can sour their mood something fierce. To no dangerous extents, but certainly landing in the 'sulky' range. Otherwise, they enjoy the company of people (yes, specificially people), finding more kin among them than their creature counterparts. This is largely due to their rare ability to learn words and phrases.. simpler ones, granted, for their (original) intellect isn't quite as sharp as true sentients, but as far as communication goes simple is all you need at times. Making people sounds tends to cause other creatures to alienate them, as it creates a confusing boundary - how much are they creature, and how much a person? In their mind, this is perfectly fine, for people words tend to fall on deaf ears when it comes to simpler intellects (and are a source of the occasional envy from the higher intellects).
As far as physical attributes go, their fur is thick and to a degree well-oiled, waterproof enough to allow them to be quite the apt swimmers. With a large bulk, they are none the less almost awkwardly aware of their surroundings, careful to not injure anything by stepping or bumping into it. The small tusks, largely display in purpose, can sometimes cause them to develop a slight lisp or otherwise add an accent onto their spoken words. Nothing to cause all too much confusion, fortunately. And finally, their extra set of arms missing from the previous half-breed generation can be somewhat deft, though they lack thumbs, meaning they have an easier time holding onto things with both limbs, rather than one at a time. Finally, the vestigial remnants of wings are more rubbery-skin-like in texture than frail insecticidal membranes and tend to shimmer slightly in bright light. With a small whisk of them, the creatures are able to summon sparks from thin air, often to the delight of onlookers.
Big, fluffy, gentle and playful, these halfbreeds make an excellent companions for all ages, provided you remember to groom them properly.