Post by Xentus on Aug 30, 2020 2:52:00 GMT -6
Right so I've been pretty invested in the v2 elemental golems and honestly the Glass breed kinda stumps me. 'Glass' is not an element, obviously. The mention of it in the Sporadic Species entry for v2 Golems says that Glass is representative of 'diamond'.. (Quote: "Life is Plant, and Glass is Die… Die-mand") Which is also not an element! Their walker age can utilize 'Glass Spear', which is a Psychic move. But their stalker age can utilize 'Thunder Spheres', which is an electric move! (and arguably has nothing to do with glass or diamonds really.. I assume this move is included because an electric golem might be used to create the glass breed).
Once upon a time, there apparently was a list of what the breeds could learn, but said list is long gone as far as I know. So, here are a few things which I wonder if the glass breed can learn or not - and I've included my reasoning as to how they might learn what is proposed. It's hard to be intuitive about these guys considering there's very little to base them on. So I'd like some rulings on what it can and can't learn.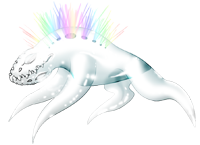 Stalker
Stamina: 2
Strength: 4
Resistance: 1
Dexterity: 3
Mentality: 5
Special Abilities: Impermeable, Phoenix-Blooded, Heart of the Guardian
Moves: Crunch, Thunder Spheres
Innate moves:
Glass Burst [Mnt] (not in its move list, but I assume all elemental Spear and Burst moves were meant to be used by the v2 Golems)
The creature sends out a "burst" of its element, causing damage to its foe.
+1 Damage
Psychic - 4
Glass Spear [Str] (Can be learned as a walker)
The creature sends out an extremity of itself, hardening it into a spear-like appendage of its element to deal damage.
+1 Damage
Psychic - 1
Thunder Spheres [Tmp #3] [Flt] [Lmt #1]
The creature surrounds itself in tiny electrical spheres, creating a literal "shield of electricity". The creature surrounded by the thunder spheres is temporarily immune to electrical damage, and most creatures would not be foolish enough to touch the shield.
Foes that come within "physical damage" range receive 5 Electrical Damage for every turn in that range. Bite and Claw are some examples of attacks within "physical range". The creature using Thunder Spheres cannot attack with any element other than electrical while Thunder Spheres is in effect.
Electrical - 8

Can it learn...
Prismatic Light
A multi-hued beam of light is fired at the foe, causing elemental damage of a random type.
Attack this turn has the damage type of a random elemental (non physical) attack. This is counted as a long range attack. The damage type will be determined randomly by the battle monitor. It's damage is equal to the creature's mentality, with no added bonus.
** - 7
----- Its image shows an array of pretty lights shining from its back, like light scattered from a prism.
Rock Shield [Unl]
Using the power of the earth, the creature creates a small shield of rocks to defend itself.
The user gains +1 Resistance.
Earth - 5
----- If it's diamond based, it could summon small diamonds as the rocks to shield itself
Crystalline Power [Unl]
The creature taps into the energy of a nearby crystal or gem, granting it mysterious powers.
The Creature gains +1 to a random stat.
Earth - 4
----- Again, shine bright like a diamond. Its inner seed in this case would act as the gem that it taps for power.
Sparkling Dust
After being hit, a puff of "sparkling dust" puffs into the air, causing all that breath it in (the opponent, for example), to become dizzy, confused, and pacified.
Can only be used in battle, IF hit with a physical attack first... the opponent looses 1 point of dexterity and strength every turn, but gains 2 points of stamina... every turn... The effects have a 25% chance of being removed every turn.
Wind - 5
----- Just curious more than anything! Hitting glass would cause it to shatter right? But I assume for this application, it would burst out a puff of diamond dust into the air upon the impact of a hit.
Flash [Lmt #1]
A brilliant light flashes off of the creature's body in some way, temporarily blinding the opponent.
Opponent loses 2 turns.
Light - 4
----- Playing off the beams of light emitted from its back, it could burst them forth to use this move
Bathe in Light [Tmp #3] [Lmt #1]
A brilliant light consume the area, removing all shadows. This is either done with magic, mind, or even the presence of strange "bioluminescent" bacteria.
Grants temporary immunity to Shadow damage and effects, and gives all "shadow-oriented" creatures 1/2 accuracy. Does not effect creatures that are immune to light damage (or effects).
Light - 6
----- Again playing on the beams of light from its back, it could scatter them across the area to gain this effect
Shimmer [Cdn #5]
A bright light is emitted from the creature's body, temporarily blinding the opponent.
Shimmers with a bright light, causing opponent to only have 1/2 accuracy the next turn.
Light - 4
----- Same as above, though this might make more sense if the above doesn't fly, due to the shiny nature of diamonds and glass.
Laser-beam [Flt] [Nrs]
A piercing beam of light strikes and singes the foe.
5 Damage
Light - 5
----- A stretch, but if it focuses light through itself, it might be able to produce a laser beam? Real life lasers use glass as a focus to concentrate light after all.
Thunder Ball [Flt]
The creature stores up electrical energy in the form of a swirling ball within its mouth or between its two "hands." Once the energy is finished being stored, it sends forth the sphere - causing it to chase after the foe at high speed until it strikes!
Does nothing on the first turn. On the second turn, the attack has 100% chance to hit (assuming the creature is physically able to be hit), causing 10 Damage.
Electrical - 10
----- Given that it can use Thunder Spheres, could it learn this utilizing the same mechanic?
Electric Charge
The creature concentrates, and starts to store energy for it's next attack.
Causes next electrical attack to do 2x the regular damage.
Electrical - 1
----- Same as above, if it can use Thunder Spheres, it could probably use this
Ability - Magnetic Influence
This ability gives the creature control over a magnetic force-field. This can not only "screw up" robots, but can repel them, as well as "metal-based" creatures (such as earth elemental)... This can be an advantage in combat when dealing with such creatures - or can become a problem for trainers... These creatures should not be kept near robots, computers, electronics, etc. (this ability provides an "auto-win" against robots, and other metal-based creatures).
Active - 15
----- Curious, just based on the fact that it can use Thunder Spheres
Illusion [Tmp #1]
Creates an illusion that confuses the foe, causing it to have trouble finding its true target.
Foe has 1/2 accuracy - may only be used once per battle for every three points of stamina the user has...
*Requires a min. 1 of Mentality to use
Psychic - 8
----- Considering that it is glass or diamond, and Glass Spear is psychic, could it manipulate light to create an illusion - like scattering the beams of light from its back to make said illusion?
Double Image [Lmt #1]
The creature creates a literal "double self", even if it is illusory, it still hurts!
Duplicate the creature, with 1/2 the stats, and 1/4 the remaining Stamina.
This allows (basically) the creature to have an extra attack.
The Double Image lasts until destroyed, or until 2 turns have passed.
Psychic - 20
----- Same as the above, but more advanced. Golems have a mentality of 5, which I feel might be enough to give them the ability to use this kind of magical effect?
Phase Out [Lmt #1] [Tmp #2]
The creature 'phases out' of this plane of existence, shimmering and seeming to disappear entirely! What you can't see, can't hurt you... right?... right?
When any attack is made against the creature directly, the attack only has a 20% chance of hitting - IF the dex check was successful... The enemy's chance to dodge also drops by half... Invisibility is rendered completely useless against blind opponents, or opponents that use echolocation.
Wind or Phsychic - 15
----- Curious. Utilizing the same principles as making an illusion, except inward to make itself disappear.. Or this can by more physics based than magical in nature - Like this real life invisibility cloak!
Spook [Lmt #1]
Disappears suddenly, then suddenly reappears (usually in a puff of smoke), frightening the opponent.
Causes the opponent to skip its next turn in battle.
Shadow or Wind or Psychic - 4
----- It uses its glass-like skin and vents to bend light disappear for a moment, and then reappear.. Same as above, less magical in nature and instead using real life physics to disappear and reappear.