Nina
Apr 14, 2021 18:20:21 GMT -6
Post by Nina on Apr 14, 2021 18:20:21 GMT -6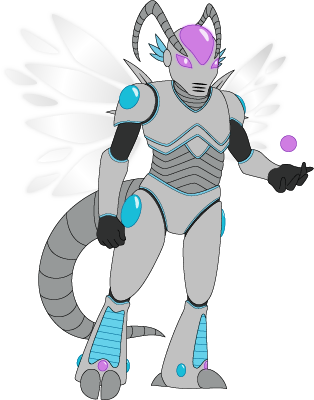 Details
Name: Model #9423378 (Nina)
Species: Trainer Replacement Droid (Upgraded)
Gender: Female
Age: Unknown
Languages: Common
Description
Nina is a unique Trainer Replacement Droid. The metal alloy that covers most of her body is silver in color with a sky blue trim. The metal forms plates that resemble armor around her chest, head, forearms, hips, legs, and feet. This metal is sparsely decorated, with some neon blue panels on her shins, rounded blue spheres set into her shoulders and hips, and some small blue spheres set where her ankle bone would be.

Her neck and abdomen are made from a series of interlocking metal plates that are held together at the back by a mechanical spine. A similar set of plates form a long, articulate tail that comes to a point, as well as two expressive antennae behind her eyes.

Under the metal is a black synthetic polymer that is surprisingly flexible. It shows through at her joints, as well as from her shoulder to her elbow where there is no metal plating. Her hands are made of the same material, giving her a full range of motion in her fingers. Where a human's feet would be, she has two claws pointing forward and one pointing back, with no visible ankle.

Her eyes are purple LEDs which are fixed in place and expressionless, though the warm light inside makes her look lively. On top of her head is a teardrop shaped light that always gives off a faint glow the same color as her eyes. Her mouth is indicated by three beveled cuts in the metal, and her voice is feminine and soft. Small metal fins make up her 'ears' in the same sky blue color as her other decorative features. Like her antennae, they are emotive and move around according to what she is thinking and feeling.

Shards of light and plasma come together around spikes on her shoulders to make two functional wings. The shapes are always glowing and flickering, as if they are made of pure energy.
Personality
Despite her somewhat intimidating appearance, Nina is gentle, kind, and very shy. When Nina is around people, she is quiet and timid. She rarely speaks, and when she does, she often pauses to think about what she wants to say. With creatures, however, she could not be more confident. She is a natural at raising, training, and caring for creatures of all kinds, and she takes great pride in the creatures she works with.

Almost all of Nina's time is dedicated to her creatures. Her ambitious training plans often require a lot of personalised attention, and even when she is not working with them directly, she still has to earn credits, purchase supplies, and maintain the Orbaru Zu. Recently, Nina appointed a manager for the Zu so that she could have some time off. While she still feels strange doing things for herself, she is making an effort to enjoy the free time.

Nina takes a lot of pride in her work. It is very important to her that she succeeds at everything she does. She can be a bit of a perfectionist, and she works very diligently to make sure that everything is just right. She has a bad habit of taking on too many projects and stretching herself thin trying to do everything at once.

While Nina would like to be more social, she struggles immensely with feeling like she doesn't fit in. She finds it difficult to communicate with others, and she is hyper aware of the fact that she stands out. Since TRods are usually considered 'property', she often feels like she isn't taken seriously as an individual. All she really wants is to be respected, and she works tirelessly at anything she thinks will earn others' respect.
History
Experimental TRod Model #9423378 was part of a program by the labs to manufacture a TRod that was fully sentient, and most importantly, capable of wielding true magic. Unfortunately, the process of generating and attaching a soul was unsuccessful, and the broken droid was cast aside. However, something within the TRod managed to survive. It was broken, but it was alive. There it sat, stuck in purgatory, not knowing if it would ever move again.

It was in this state that Silver discovered the discarded TRod. When they touched the top of its head, it began to shine with a blindingly brilliant light. The intensity of the flash and a mysterious, searing pain caused them to pass out, only to wake up some time later in public park with a pair of bright purple eyes staring curiously down at them.

From that moment on, the two of them would be irreversibly intertwined. Neither of them could know for sure, but it was obvious that Silver had given up something in order to ignite the spark of life that was left. Without a neural link to attach to, the TRod learned the habits and mimicked the voice of the one who saved them.

Wanting to cement her identity as an individual, she decided to give herself a name. She chose 'Nina' as a nod to the scratchy serial number carved into her armor from the original experiment.

One of the first things Nina did with her new found freedom was set up the Orbaru Zu. She always adored Orbaru, and she felt a strange sort of kinship with them. At first, she attempted to rescue every abandoned Orbaru she could find, but she quickly found herself running out of space to house them. Eventually, she set up the Zu as a sanctuary for all Orbaru. After years of hard work, the Zu is now self-sufficient with the upkeep, staff, and projects paid for by the revenue generated from guests.

For most of her life, Nina lived with Silver. The two had a peaceful arrangement in which they rarely had to directly interact. Nina would help Silver care for their creatures, and in exchange, she had access to all of their resources. When Silver left for an extended journey, Nina took over caring for their creatures full time, and their once close relationship became strained.

After Silver returned, Nina found that she had more time to explore and rekindle old friendships. With some encouragement from her good friend, Jack, she eventually decided that she would raise and battle Sarane. This was a decision that ultimately led to her living on her own, as Silver did not approve of pit fighting. She now supports herself by training creatures on commission.
Goals
- Become a Champion
- Find a place in the world