Post by Ashe on Dec 10, 2021 5:50:16 GMT -6
Dated: 01-01-20 - #10

The quest board has a single, large banner on it right now. It looks like a bunch of youngsters have made it with crayon and it is laminated: "CULTURAL APPRECIATION MONTH!!!" Cultural Appreciation Month? What is that all about? Jolyne comes up with a few more decorations and nods to you. "You thinking about joining this month? I'm giving out QP to anyone willing ta do it." She says, sounding a bit stuffy. It seems like the cold weather has her a bit down! "Check inside for a flyer if ya want." She says, getting to work.

On the Board

In Order to Succeed, you have a few options for this month! Do one of the following to succeed!

(1) Teach a class about your (character's) culture!
(2) Go about your usual day, showing us what your character does on a normal day that you wouldn't normally write.
(3) Do whatever it is that your character does for their religion if they have one.

This quest will be rolled as per usual.

Prize: Questing Points are the prize for this month, no item.

Challenge Rating: Easy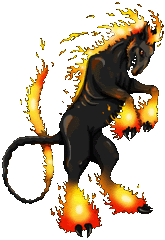 Ashe happened upon the quest board while out on a trip with his trusted Equillion, Dracula. The pair were out for a leisurely stroll, between shopping excursions, and he had decided to swing by the board and see if anything new was put up. While this one wasn't new, it seemed to be something Jolyne was doing again. Maybe it was a yearly thing? Ashe didn't ask questions, though he did hop off Dracula and grab a flyer from the inside. Reading it, he walked back out to his fiery steed.
"All I have to do,"
He said.
"Is share what I do normally in a day, huh?"
Ashe wondered what he should do to show it off. Host a class? No, that would be boring. He and the students would be climbing out the window. Maybe he could...
"I got it!"
He told Dracula.
"I'll take short videos and edit them together into a movie of some sort!"
Dracula snorted.
'Who wants to hear about your life anyway? It's boring!'
1/10
[Quest #10, First Completion]