Post by Morgan on Dec 30, 2021 20:19:51 GMT -6
On a few words that start with N.
~
Mature for: Slight Reference to Substance (Cigarette, Alcohol) Use, Grievous Bodily Harm on a Critter (*might be edited with more in later)
~
Note: Everything referenced in this thread occurs in Morgan's past.
Some of it will be clarifying or over-writing old plot points to improve them.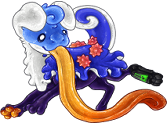 Kaodie | 86/51
Stamina: 1
Strength: 1
Resistance: 1
Dexterity: 3
Mentality: 2
Special Abilities: Physical Immunity, Super-Luck, Survival Instincts, Refined Senses, Acid Resistance, Slime
Moves: Bite, Sticky Tongue, Impediment Goop, Euphoric Goop

Knows:
Tricks:
Name, Fetch, Catch, Hold, Drop, Get (Rainbow Rope Toy), Tug of War, Keep Away, Yeet, Search, Don't Eat That!, Go Out, Tolerance, Wear Harness, Ride On, Follow, Lay Down, Stay
Abilities:
Swim, Danger Sense, Hardy
Moves:
Bite, Sticky Tongue, Impediment Goop, Euphoric Goop, Snitch, Surprise, Constrict, Play Dead, Lick Wounds
~


Nostalgia was an intoxicating force, Morgan felt. As intoxicating as any substance really could be. It made sense for the force to feel
that
compelling. Humans had a tendency to look back at their past through lenses tinted with a polarizing view that selected for the positive times; and perhaps it was an even worse force on someone like Morgan; precocious individuals bereaved of all historical roots at an age young enough to have no recourse save for their own merits. There were times where they went weeks without thinking about anything other than what they had at the helm (for their own sake)- times where they lost theirself entirely beneath the yoke of work. Still, there were other (slower) times in which Morgan found theirself reminiscing (if one wanted to use a soft word for their hardly unique form of self-torture).
Times like now, where the bespectacled human found theirself between projects on the job, sitting at the desk with fingers itching to pull out the file they kept in the back of the cabinet... The one with their father's disappearance case (so lovingly and perhaps obsessively compiled by theirself over the years of their elder teenagehood and young adulthood). They only managed not to pull it out and lose theirself in the pages of the folder yet again when Kaodie reached up with a soft bwark-whine and nosed Morgan's hand out of habit. They glance back at the cabinet, and sigh.

They really had come a long way. As time went on, they could barely recognize theirself in the mirror... Someday in the far future they would be the age that their father had been whenever he disappeared.
...They weren't really sure what they'd do when the time came.



[1]