Post by Twilight-Claw on Feb 4, 2022 1:15:47 GMT -6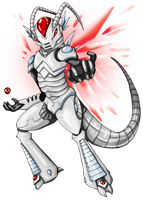 Almost done with the shopping of this month, she has been steering her Trod to go for the first time, not for the questing board to pick up a new quest, but the shop itself. She wanted to find out what exactly is being sold there, and it has been quite some time that she had saved up on those points too.
The shop itself when she finally got there with the Trod after having asked for direction's when she got lost at certain points of her travel towards it, looked interesting, a combination of belonging to nature with a edge of futuristic when it comes to the neon sign proclaiming what the shop is, she did see some miscellaneous items on display at the windows, but the curtains are drawn closed, not making it possible to see what else is being sold, and a door made completely out of glass. Something she hadn't expected. She was hesitant to touch it, she didn't want to imagine being one of the people who breaks part of the property from a shop owner due to not being able to keep their strength in check. Though, it is a relieve to see It actually has a metal handle bar to grab onto, and not needing to touch the glass itself.
Pushing it open, she looks with interest at the wares on display for a moment, but she didn't think that what she is looking for, is just on display, not with what people talked about to get their pets magically stronger. Something like that surely wouldn't be displayed so casually with the wares here.
Making certain to get the whole body in the store and the Trod's tail curled away from the glass door, she calls out. "
Hello?
" To the counter when she sees who she assumes is the shopkeeper. "
I require an object that is able to grant a creature an easier time with training them, supposedly magical by nature?
" She wasn't certain what exactly it looked like, she only heard a little about it from other people and the description was rather.. lacking in a way.
Coming closer to the counter, she takes off the backpack she had the Trod carry, being careful to lay it down on the ground with the precious cargo it has already been carrying for quite a while. Rummaging in one of the bag's side pockets, she takes out all seventeen slips of paper that proclaim to be Quest Points she has earned in the past. Placing it on the counter.
Buying:
17 Single Pet Level Vouchers for Envix the "Halloween" Shadow Lurker
(Getting 85 levels in total)