Post by Zenjesi on Sept 20, 2022 12:33:27 GMT -6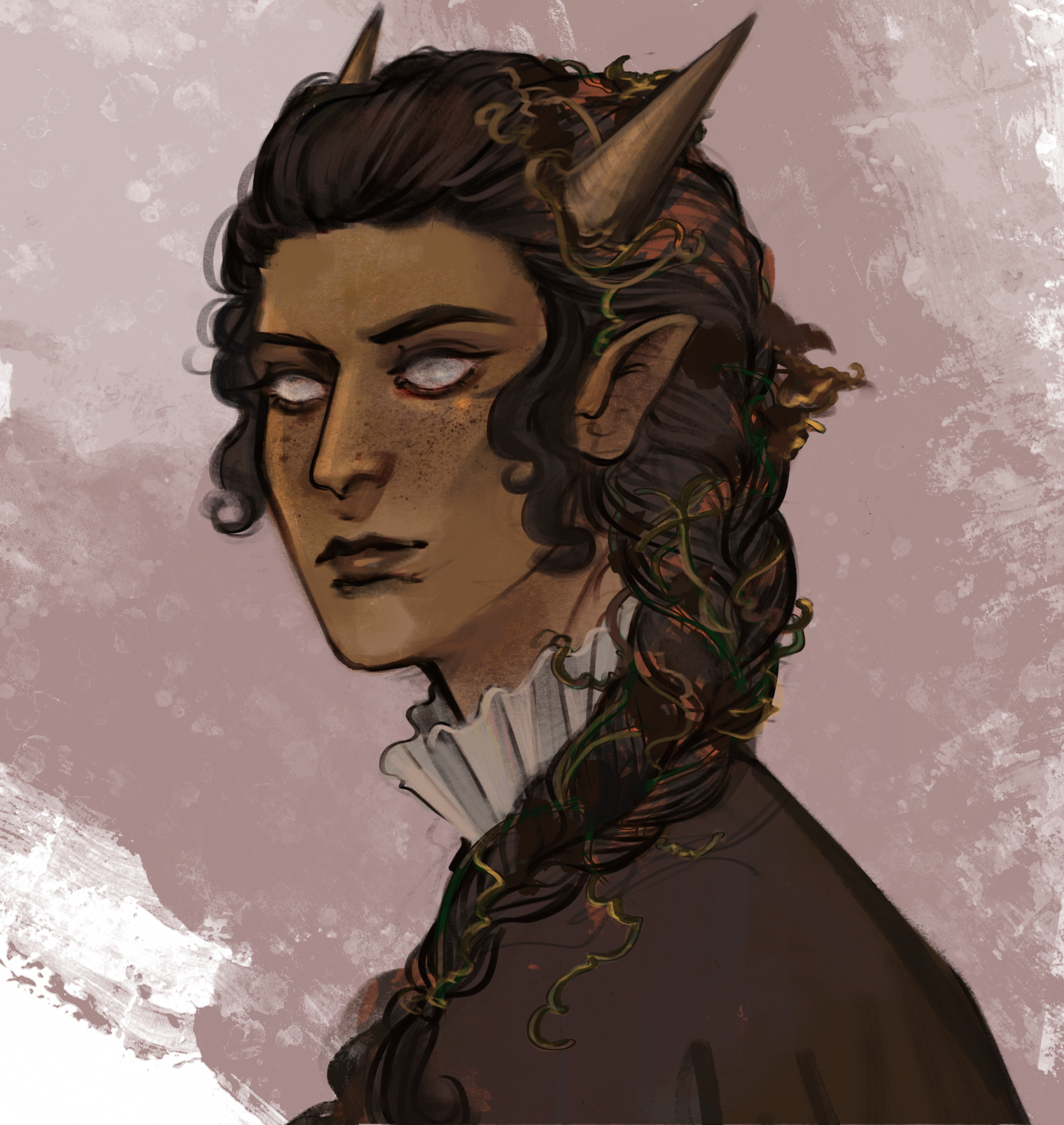 Art by Josen
Name: Zenjesi Vena [zen-YES-see VAY-nuh]
Species
: Humanish
Gender
: Neutral
Age
: 25
Native Language
: Common
Level
: 3.3
Physical Description:

Zenjesi is a slightly uncanny creature. Although they stand a little over five and a half feet tall, one wouldn't know it by looking, as they rarely walk completely upright, and are typically picking their way around on their slender hind deer legs. These legs are human to the knee, where skin turns to fur. Their skin is a bronze shade, with freckles covering the bridge of their nose and cheeks. Dark, almost black hair pulled back in a French braid falls down to their mid back with withered ivy interwoven in it. Their fur is a similar dark shade, matching their hair. Their eyes are a cloudy white, no iris or pupil to be seen. Their features are very fine, but angular, and somewhat elven in appearance. Their ears are human but pointed, but have a downward angle to them. In addition, they have two small, straight, and smooth horns that jut out of their hair, akin to gemsbok horns, but only about 4-5 inches long. These horns are the same shade as their skin.
Their style of dress is fairly simple and practical and consists of plain colors, typically only incorporating natural shades of fibers. They often wear high necked shirts and various styles of caplets. Oftentimes they wear sheer sleeves and/or sleeves with ruffles at the wrists. Shoes are not required, given their hooves.
Mental and/or Social Description:

Zenjesi's uncanny nature is not just limited to their appearance. Something about their mannerisms and movements is slightly… off kilter, and this has a history of making others very uncomfortable. One of these variations includes the fact that Zenjesi cannot physically speak above a raspy sort of whisper. As a result, they have grown quite accustomed to being alone, and, to this point, have spent most of their recent years in near solitude. However, if reluctantly, they admit they cannot sustain this way, and do hope to create a meaningful connection with another living creature. In particular, they tend to feel a certain kinship with the other outcasts of any given society. Their experience for botany was largely born out of necessity, rather than any particular interest, although it has begun to develop into something more substantial; plants, though they live, do not discriminate. This, at least, manages to stave off some of the loneliness Zenjesi would otherwise feel.

In addition, Zenjesi seeks to better understand their mysterious origins and where their innate magical aptitude originated from. Though much of their time to date has been spent living off of the land, scraping out enough to survive, they believe there is a much greater purpose that awaits them, and lurking amongst the trees hasn't yielded those answers just yet.
Goals:
- Gain more magical knowledge and experience
- Gain a better understanding of their parentage

- Find and actually forge a bond with one or more monstrous or humanoid companions
- Find somewhere to call home
Attribute:
Instinct
You've got good instincts, and you're a natural survivor. You feel at home in the wild. You gain 'Survival' as a bonus skill group and gain a bonus of 4 skill points to spend in the Survival group at the start of character creation. Skills in the Survival skill group are half cost per rank for you, rounded up.
Traits:
They Know
You're not exactly normal, and everyone knows it. You give off a weird vibe that makes people uncomfortable around you. Whether you're unbelievably awkward, very infamous, or just weirdly cursed, people don't usually react well to your presence. Shopkeepers charge 10% more for you, and if you're able to barter at all, you're just bartering for a fairer price. You cannot choose Charisma as a skill group, and all Charisma skills cost you +6 the normal skill points, as opposed to +2.
Magical Aptitude
You're magically gifted. You get a permanent +1 bonus to mentality.
Blessed
You're blessed with natural talent and understanding in the ways of magic. You gain 'Magic' as a bonus skill group and gain a bonus of 4 skill points to spend in the Magic group at the start of character creation. Skills in the Magic skill group are half cost per rank for you, rounded up.
Disowned
Whatever happened, the people where you came from don't want you back. You're not welcome there any more, and you have no 'home' to return to.
Speech Impediment
When you speak, it's a bit hard for people to understand. Maybe you stutter, slur your words, or have a lisp, making it a bit harder to communicate.
Danger Sense
You always know when something is out to get you, and you move out of the way before you even realize why. You gain the ability 'Danger Sense'.
Will always instinctively avoid the opponent's first attack in battle. Attacks using sound - such as Sonic Waves or Roar - cannot be avoided however and 'cancel out' Danger Sense. (Passive)
Stats:
Stamina: 3
Strength: 3
Resistance: 3
Dexterity: 3
Mentality: 4 (Magical Aptitude)
Moves:
- Holy Shield (Mystical Shield skill) (once per day)
- Climb (Climb skill) (only around trees or similar structures)
Skill Groups:
Botany – Proficient
Charisma – Not Proficient (+6 cost per rank)
Husbandry – Proficient
Magic – Proficient (Blessed Trait, half cost per rank)
Survival – Proficient (Instinct Attribute, half cost per rank)
Skills:
Remaining points
:
3
Botany
Plant Lore
Berry Picking
Toxin-wise
Magic
Magical Awareness
Feel the Node
Mystical Shield

Survival
Build Fire
Cleanse Water
Climb
First Aid
Constellation Knowledge (1/3)