Post by NPC on Jan 1, 2023 21:48:39 GMT -6
Loot Areas Overview
Loot Areas are Advanced roleplaying areas where users can make posts to earn rewards. For every 5 posts made in a loot area, a staff member will roll some dice to determine what (if anything) happens. If you've found something, they'll post the images for you to take. Otherwise, they will explain what happens to your character.
These rewards (often referred to as "rolls") can be improved with equipment and relevant character skills. Each area has associated equipment and skills, explained in more detail below.
Each loot area follows a theme (ie gemstones from the mines), and some loot areas have prize pools that change depending on the time of year.
Rules for All Loot Areas
1.
All loot areas are considered "Advanced". Characters gain 1 level every 20 posts, and creatures gain 1 level every 5 posts.
2.
The "pets can only be in one place at a time" rule is in effect here.
3.
Each character may have only two active threads in each loot area. If you have two active threads, at least one of them must be collaborative (involving at least one other character).
4.
Whether or not you started the thread, you may only participate in two total at any given time. To join or start a new thread beyond that, you must lock your previous one.
5.
Your roleplaying posts must be numbered either at the beginning or the end of each post. This helps staff track your posts for rolls. If you are RPing with another character, number your posts cumulatively (character A makes post 1, character B makes post 2, and so on).
Setting Up Your Thread
The following things are required in the first post of your thread for
all
loot areas. These things cannot be hidden behind a 'spoiler' tag.
A link to your character page. If someone else is participating in your thread, include a link to their character sheet as well.
The image, loyalty, level, and stats of all the creatures currently present.
Any equipment being used.
Other optional things you can (but don't have to) include:
A shortlist of skills and traits you think might be relevant.
A list of everything you've found so far.
Character art and inspiration images. (Make sure staff can still easily find the required info!)
Whether or not you want to have 'creature encounters' (more on that below).
Creature Encounters
Each area has creatures you might encounter while exploring. Unlike items and pocketpets, however, a creature must be 'tamed' before you can keep it. Taming includes a brief roleplay encounter of your character trying to convince the creature to come with you.
When you find a creature, staff will post the image of the creature and let you know what the creature is doing. Then, you write out the encounter, including what the creature is doing while you are trying to tame it. You must follow the prompt (for example, if the creature is described as skittish, you must write it being skittish), but exactly what happens is up to you.
As part of the prompt, staff will also give you a range of posts you can make. For example: Make 3-5 posts to tame the creature. This counter starts immediately and you cannot make more or less posts than the range allows. (You cannot make posts before starting your 3-5 posts, and you cannot make additional posts after the 5.) In character, you do not have to approach the creature immediately, but you will have to show that you have tamed the creature before finishing. If you find more than one creature at the same time, staff will give you a larger post count to accommodate both creatures.
Once you are done with your posts, include the word 'DONE' very clearly at the start or end of your post and wait for staff to check it. Staff will either let you know that you've successfully tamed the creature, or they will let you try again if you weren't successful. You only get one chance to try again before the creature runs off, so make sure to follow the prompt!
This can slow down your exploration, so you can opt out by putting "Creature Encounters: Off" in your first post. Please make it very clear and easy to see so staff members don't miss it! If you don't specify either way, staff will assume creature encounters are
on.
Sample First Post (Mines)
This is a very basic example to give you an idea of what a first post for a loot area might look like. Feel free to make your post fancier so long as all the necessary information is there and easy to see! You can always browse existing threads for ideas.
Kor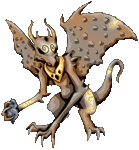 Level 5, Loyalty 5
Stamina: 1
Strength: 3
Resistance: 5
Dexterity: 3
Mentality: 3
Special Abilities: Earth Resistance, Fly, Opposable Thumbs
Moves: Dig, Peck, Claw
Tools: