Post by Skylos on Jan 31, 2023 22:29:28 GMT -6
Quest #19
It is the time of year that some people celebrate The Incursion; that is, the birth of the Labs that founded the City. Decorations are put up all over town, including some home-made 'robots' (or rather, robot-like metal husks) that stand menacingly as a testament to all things perhaps not-quite-natural. The last few years, this month has been tinged with some amount of sorrow - what happened to the Head Scientist?
As you make your way to the questing board, you find that even WELP appears to be getting in on the festivities (don't they compete with the Labs? no one is really sure). You see a few different individuals, dressed up in what are obviously WELP lab coats, handing out flyers. A peculiar little kapper (hairless and catlike, with three eyes) wearing a black tutu and a skeleton-printed hoodie grins at you. Her teeth are all snaggle-tooth, but it is difficult to be afraid of such a small individual.
"This is Dis with WELP Corp! My team members and I are here to invite you to a bonfire in honor of The Incursion." She holds out a flyer in her clawed little fingers to you. "There will be catering, and you may bring a pet with you if you wish."
The middle eye blinks as she continues. "If you don't have a WATT, the back of the flyers has a map to the festival grounds. If you do have one of our revolutionary WATTs - you can find it on the official WELP blog as well!"
At this, she bids you adieu. What a peppy little scientist! Her other team members are busy answering questions and handing out flyers to other quest-goers.
This sounds like an interesting little quest, if not a tad simple.
-
The night of the bonfire is calm and clear-skied, if not a little bit cold for this time of year. There are several bonfires lit safely around the huge field (one that had been recently harvested of the golden grain within it) and it seems like nearly the whole town is there. There are various stands from the cafes and restaurants of the Labs set up with a ton of different delicious treats! A few people have gotten together to speak and eat, and still a few more are attending dances, or having an unofficial battle or two farther out from the rest of the crowds. What would you like to do with your night?
Later on, a fireworks display is planned. It seems that WELP has found a way to make fireworks nearly soundless, so as not to panic creatures with an aversion to loud noises.
The Quest
Spend some time at the bonfire, celebrating with others and watching the fireworks.
Post Requirement: 10
Prizes
First Completion: 2 QP and a festive treat
2+ Completions: a festive treat
**First completion of the quest for Skylos**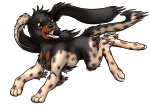 wearing