Post by Twilight-Claw on Feb 6, 2018 13:25:16 GMT -6
City of the forgotten Tengoku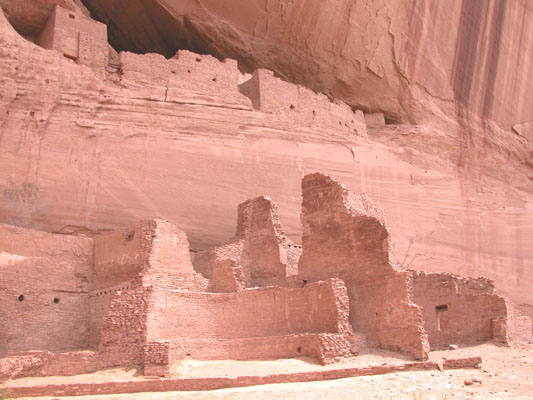 Following a trail of small stones that seemed to be the road of the Canyon City, you come across all kinds of beautiful caves and caverns from all kinds of different people that showed how beautiful the area of the cliff side can be, instead of always seeing the reddish brown from the desert rocks that where the City's walls.. Or even seeing that plant life was scarce in these parts of the city, growing in clusters and clinging for dear life by it's tangled roots. On one of those usual walks you take to look at other people's houses, you come across what seems to be a deserted part of the Canyon City. Most houses seemed to be in ruins, now and than a hole in the walls of the ruins that seemed to be in ancient times a window of some sort. There also where a bit more round shaped door openings made of stone, but most of them didn't looked like that since most where so deformed with all kinds of broken parts in it, that it didn't felt safe to even go trying to walk in the ruins..
When looking more around another trail leading to higher grounds of the cliffs, where it was made of even smaller stones than the one's before that you walked on could be seen, the trail was just behind one of the ruined housed, and seemed to lead to a different part of this deserted and forgotten place. Taking the road to the more higher parts of the cliff side, it could already be seen that no plants ever had come to this place or maybe used to have come, but are all gone now. Not in one part of all the ruins you've seen plant life living here, only at the more occupied side of the Canyon City that is.
When finally coming to the more higher part of the cliff side, a new set of ruins could be seen. Even here everything was deserted and forgotten in this lonely place, where not even the birds or other critters seemed to come, there was no food to keep them alive in this place. Most of the ruins where so close to each other, that you could hardly get to the other side, only at one spot there seemed to be large enough space to get trough. As you walk in that space you seemed to be getting yet again a bit higher while walking, passing most ruins that seemed not even worth to take much of a glance at it, but at one ruin right in front of you, you stop to look at it.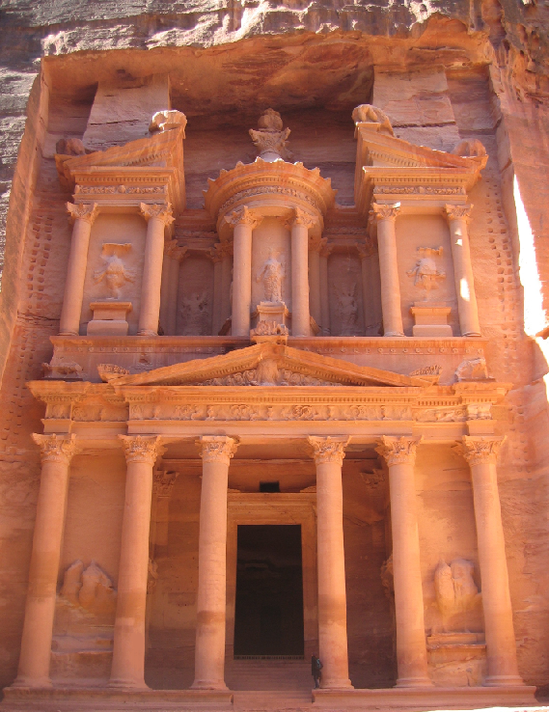 Only this one in all the ruins of this deserted place seemed to be intact, the largest one carved out of all the ruins.. There where no small holes in this one that could have been served as a window, instead there was just a large grand opening where one could get easily in with pillars jutting out at the sides of the entrance. A glance inside where the light reaches you can see the walls here are smooth and carved with strange symbols and words, a Dragonic that could be six times larger than you would even fit easily inside of the entrance.
It seems only this particular ruin, the only spectacular one if you looked at all the other ruins in this deserted place, seemed to be worth investigating more. With that in mind you walk in the large entrance to see what else lies in there with all the darkness inside of it..
~~~~~~~~~~~~~~~~~~~~~~~~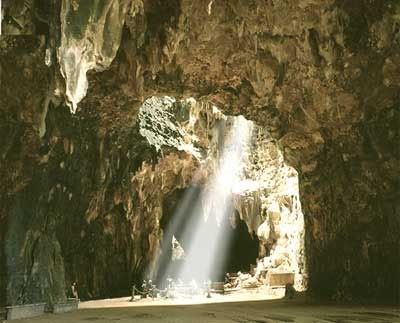 It seemed so long, so long that you walked with no light to guide you. Using only you're sense of touch, hearing and some times even you're sense of smell to get deeper and deeper into this large cave.
Walking besides the wall and touching it the whole time with you're hand while doing it in a slow pace.
It was only after a while that faint light could be seen, and could barely be used to see where you are and how far you walked. Every time you came closer and closer to the light source you could see the cave's ground was just as smooth as the walls, only now and than a spiky rock was seen but they where looking smooth in a way too, how bizarre.
It wasn't long when you saw the opening in the cave that made all the light come out, and let certain rocks in the cave, shine like jewels..










It was there in the bundle of light that Dragonics and other Dragons alike slept peacefully together, not noticing you at all..
The only sound they made was a soft snoring one, a peaceful sound for these Dragons.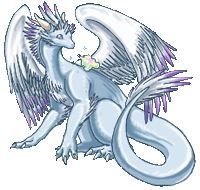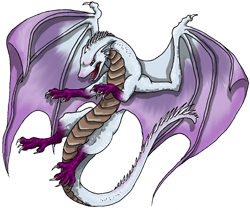 Farther away from the Draconics that where sleeping peacefully in the bundle of light, you could see a very large nest made out of twigs and feathers laying in the shadows near the wall of this cave. Coming closer and closer to it carefully without making any sound, it could be seen there where inside lots of dark blue baby blankets, a few toys, a few large scaled Draconic eggs.. Baby Dragonic's that where having a hard time trying to sleep, twisting and turning is what they did while softly growling a bit.. A more larger growl could be heard too, it wasn't one from a Draconic.. but more that of a common large dragon, this one seemed to guard the Draconics, even in its sleep it did just that. Curled up a bit while its tail was protecting the eggs, the look it had on its face, the sharp fangs that could be seen..

It probably wouldn't take to long now for it to wake up, and tear apart any intruders that would come to close to its nest.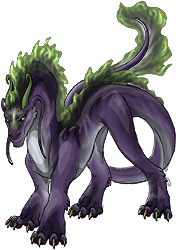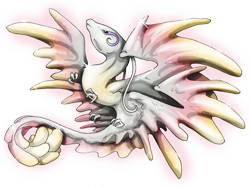 Walking slowly away from the nest, and being used to the snoring and growling of these beasts. It was only than, that you heard the sound of a stream, deeper in the cave. Looking around to make sure no one was getting any time soon awake, you sigh from relieve that, that wasn't going to happen.. This definitely was there time to rest. Carefully and softly without making any sounds, you walk in the direction of the stream.. Farther and farther away from the sleeping Draconics, you walk.
Walking for a long while, the light that made you walk more confident was gone now, only being replaced by darkness. The cave tunnel starts taking a turn, making you bump you're head when noticing it at the last moment. For you, there was enough reason now to go back before being completely lost.. but the sound of a stream.. each step you made, brought you closer to it. It was curiosity that still held you in this situation, and it was curiosity that brought you so far.
Light, there was light a bit farther away from you, the sound of a stream could now be clearly heard, you could even see it a little. You quickly hasten you're pace, running now.. Running away from the dark to the light.. Wanting to see it all, wanting to know if it was worth all this..
When you, and you alone where in the light that showed everything, the light that came out of the cracks of the walls leading outside.. It was than that you could see how clear the water was in the stream, knelling you let you're self take a sip from the water, not caring if it could be dangerous.. The taste it had, it was different from what you're used to.. Quite a few meters away, there was made a large smooth hole in the ground not to close to the stream, resembling that of a nest, only without any materials..


~~~~~~~~~~~~~~~~~~~~~~~~

Though you couldn't see it, they could see you from within the shadows they where..
The Draconics that made there home in this stream,
looking at you with a hint of curiosity and anger...
~~~~~~~~~~~~~~~~~~~~~~~~
Draconics that would live here, where able to swim and not sink to the bottom like so many none water Draconics where.. Claw marks where carved in the ground when you looked more carefully, they seem to have been made not so long ago apparently, and it wasn't going to scare you away.. Looking closer to the cave walls, something colorful struck you're eyes, and with a quick look.. You saw what it was.. A large green book was tucked away a bit in the cracks of the wall, curiously as to what could be written inside.. You walk closer to it, carefully taking it out of the cracks and opening the book to see what it is going on about..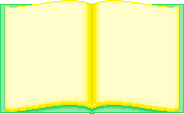 This certainly was interesting with what you red in it, reading a bit on the places the owner of these beasts went to, how to predict what you could expect in the breeding between Draconics.. How far the Family Tree went from these Draconics.. There was enough to look into that was interesting to know, and it took quite a long while to have red everything there was going on about it.. Carefully you close the book and put it gently back in the cracks, this has been definitely the right choice to go further.. Or you wouldn't even have known so much about them as you did right now..
Right when you thought you where alone in this place, a dark figure came suddenly out of the shadows, human apparently.. While wearing clothes fit for the winter season, it doesn't even feel that cold in here.. She glared at you with fierce hatred that you've entered her cavern.. "I've seen enough of what you've done in here, disturbing my dragons while you have no right to even be here.." She said in a deep harsh tone, almost manly for some reason.. "Now get out of my home, THIS INSTANT!" She yelled in a ice cold tone, her eyes looking the same way to.. A large Draconic walked out of the shadows suddenly, glaring at you while growling angry, its tail flicking when you least expect it to..
You take a few steps back away from them, but in doing so got you're back against the wall, leaving you with no way out.. "Please.. Wait a sec.. I only wanted to see what kinds of Draconics lived here! I didn't mean to disturb them!" You yelled in fear, looking quickly around for a way to escape.. She just smirked when hearing that, closing her eyes just for a moment, and than quickly opening them with those ice cold eyes again while saying in that harsh voice of hers.. "And that is just the reason why we cant stand it, seeing people enter our home with little to no respect, only to please there own curiousness.." With her right hand, she pointed at you dangerously while saying in a harsh tone.. "You know what to do with this 'thing' right?" She said to the large Draconic, it only made a simple nod before opening its large mouth, showing its sharp long teeth and licking its mouth out of pleasure.. Seeing this, you make a quick yelp and ran away from them, deeper in the cave.. Hoping there would be exist somewhere there.. "There is no exist for you to escape from, there is no way you can hide from me or my friends.." She said in a cold harsh tone, folding her arms a little while looking amused at how you tried to run away..
Luck was this time.. Not on you're side, when you looked behind you to the Draconic, just for a glance to see how much space there was between you and it.. You trip thanks to a loose stone on the ground, hitting you're forehead hard on the ground that consisted only out of smooth hard rocks.. You tried getting up, but failed.. You're vision went blurry, while blood was slowly dripping out of the wound that was created from the fall on you're forehead.. The last thing you could still see and feel, was that you where being lifted up in the mouth of the Draconic, the sharp teeth of it hurting you're skin.. Making you yelp one last time, before everything went black in you're eyes, before you went unconscious..