Post by Darky on Nov 7, 2019 18:37:03 GMT -6

Delivery!
Crossbreeding
Username: Twilight-Claw, Leafy
First Parent:
runic_haix
Second Parent:
Leafy_Dragonfish
Third Parent:
offspring_407
Additional Options: +1 parent, +2 additional Offspring
Theme: Regal, Illuminate, Adaptable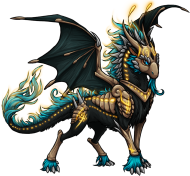 - 193
- 194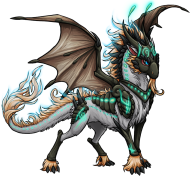 - 195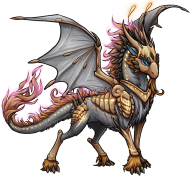 - 196
Cunning: 4 Beast
Average Top Speed: 35 mph, 35 mph (flying)
Special Requirements: Loyalty 5 (to trust)
Size Chart: 3
Power Levels: 4
Notes: None
Stamina: 3
Strength: 4
Resistance: 4
Dexterity: 4
Mentality: 5
Special Abilities: Fly, Opposable Thumbs, Bioluminescence, Light Immunity, Shadow Resistance
Moves: Bite of the Divine, Foxfire, Illusion, Intangible Body, Holy Light

Biology: "Fire in one's soul, magic in one's veins" is a piece of a familiar poem, and it can certainly run true with these crossbreeds.

Where their rakai parentage were praised for having 'diamond hard' scales one could say its in fact these halfbreeds that could truly attest to a stony hide - mostly because half of them is just that. Unlike most other gargoyle-based halfbreeds, these guys do have a mostly fleshy body, where the stony plating and scales are fused to it to form a protective coating. Not exactly impermeable, but then, their other tricks may not require it to be - true to the pure-sided heritage, there is a certain.. malleableness to their form. While they care not how many blades or grass gets trampled underfoot, they may none the less opt to be a little less physical in order to avoid sticky situations or simple grime. There's a bit of pride to them that shines through in quite a literal sense.
One can immediately tell they hold themselves to a certain primp posture, no doubt inheritance from their pure-lined blood, though the stony stoicism of a gargoyle gives it a shade of indifference. They may bring light to any darkness they walk to, but they are not quick to trust. As such, one must shown a certain manner of worthiness to whatever particular ideal an individual creature might have - whether to assure calmness, upkeep cleanliness or something entirely else. And in return these versatile creatures may yet prove themselves quite the capable companions.


Open Slots
We now have
1 open crossbreeding slot
available. Post your claim~