Post by Nerius on Jan 25, 2019 16:55:11 GMT -6
Have some very old writing, copied from old canyon city thread. Re-do this at some point me.
One would almost miss the opening in the rock, though it was large enough for a grown draconic to fit through. Long, purple-green vines hang like serpents over rock, swaying in the slight breeze. Push past, and rows of grey stalactites and stalagmites grow like teeth from the floor and ceiling. The largest have grown together, forming two rows of thick columns along the sides of the passage. Little sunlight penetrates past the opening of the cave, light coming only from the blue-green moss growing on the walls. Up ahead, the tunnel twists, the cave beyond not visible.

Past the twist, the tunnel opens into a massive chamber, lit by more of the blue-green light, although here, it comes from crystals rather than moss. The ceiling arches high overhead, intricate stalactite formations hang down, glittering in the blue-green light. A stone shaft, made of a opalescent white marble, plunges down from the ceiling, descending several hundred feet down into a pool of clear water. Spiraling down the shaft is a carved staircase, large enough for even a draconic to climb. Spokes branch off, leading to other chambers. The highest spoke, which leads to the entrance, seems to also be the stopping point of the stairs, although they descend all the way down to the water.

The first spoke leads to a smallish room, the walls a shiny black, naturally studded with pointy red crystals; their glow providing most the light for the room. Unlike the others, this room doesn't seem set up for a draconic, and is apparently a room for the caretaker to sleep. It's sparsely furnished, with a green-sheeted bed in one corner, a black stone desk and bookshelf in another, and a silver door that presumably leads to a bathroom.The first spoke branches out to a landing with a large opening in the wall, there is no doubt this room belongs to a draconic. It seems warmer in here than the rest of the cave, although there doesn't appear to be an obvious cause. The walls are made of red obsidian, ranging in color from fiery orange, to a dark blood red. The shapes are smooth and flowing, forming abstract patterns on the walls, floor, and ceiling. It had to be the remains of a lava tube, the unique shapes formed by hardening magma. A short tunnel opens into a large chamber, though still much smaller than the main shaft. The floor here isn't completely smooth, large, rounded platforms rise up from the rock ground. In one corner is a pool of water, although it appears quite shallow, it would only come up to the chest of a Lashak.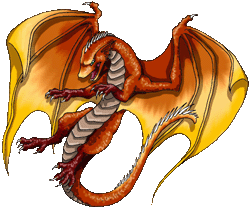 Name: Savara
Gender: Female
Species: Lashak
Level: 4, 20/25
Loyalty: 6, 20/25
----------
Orientation: Straight
Mate: None
Children: None
----------
General
Intelligence: 3
Size: 5
Power Level: 7
----------
Movement
Crawl: Yes
Leap: Yes
Flight: Yes
Swim: No
Burrow: No
----------
Stats
Stamina: 4
Strength: 7
Resistance: 7
Dexterity: 7
Mentality: 10
----------
Powers
Abilities: Fire Resistance
Moves: Wing Buff, Snatch, Claw
Breath: Fire
Innate Magic: None
----------
Training:
----------
Personality:
She tends to be rather quiet, preferring to listen than to speak. That's not to be confused with being shy however, Savara has no problem socializing with others, or stating her opinion. Though she does often use movement and actions to express what she's feeling; and is good at reading the body language of others.
Even if she's not the most talkative, Savara is friendly, and does like being around other draconics. She is rather... protective of what she considers 'hers', weather it be gems, or a friend; and with a rather short temper, the unfortunate 'person' will often find themselves set on fire.
Strangely, even though Savara is fire aligned, she has an odd fascination with water. While like all lashak, she swims about as well as your average rock, Savara still enjoys getting in water. She's restricted to shallow pools though, where her size can keep her head out of the water.