Haix
Mar 30, 2019 14:15:13 GMT -6
Post by Haix on Mar 30, 2019 14:15:13 GMT -6
Name: Haix
Species: Ssashirk
Gender: Female
Age: 38
Birthplace: Swamps
Height: 4'11(At rest) 5'5(Standing tall) 5'10 (Frills fully open/raised)
Weight: ...Really want to know? Light enough.
Native Language: Sakaash
Physical Description: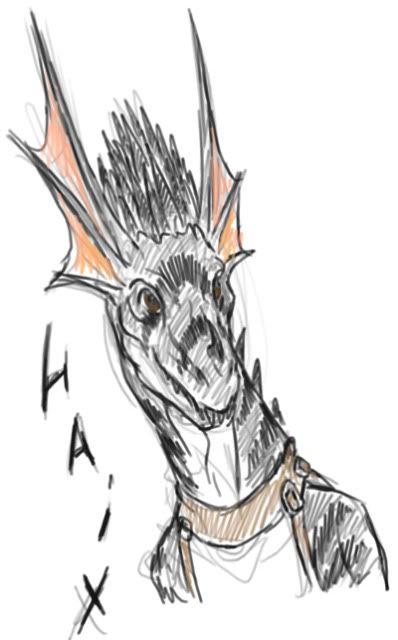 -Done by Darky-
((Colors and basic body.))
A picture is worth a thousand words, but since there are a few pictures let's address what they fail to.
The frill has a third stretch of skin, a purplish colored flap connected to the base of her jaw and the top of her neck. It can only be seen when the frills are fully spread out, though Haix rarely choses to. The frill itself is usually tightly folded and pressed back against her head, although when tired the bony parts tend to sag and reveal part of it. The frill may be opened and kept against the head, or spread out around it. The frill is one of the best indicators of Haix's current mood, as her mouth is stuck in what most mammals might call a smile, or a snarl, depending on who you are asking.
Her voice does not suggest that she is female, nor is it particularly masculine, although it has a thick accent some may have problems deciphering. While she is able to make herself pronounce Common in conventional and understandable ways if she bothered to try, she rarely does. Her voice is not rough or grating as her appearance might suggest but similar to that of some exotic songbird, resembling trills and chirps. Unfortunately, this only adds to her inhuman presence.
The tail is flexible, and used as a counter-balance when running on the ground. In the water, it serves more as a rudder, and in the trees it allows her to balance with ease.
Haix prefers meat to most other foods, although she will eat some fruits and vegetables. She will often refuse pure sugar, or foods with high amounts, as they are horrible tasting to her. That said, she is still capable of digesting it, although large quantities may make her feel ill.
Although the drawing gives her a slightly faded appearance, the colors on Haix are supposed to be very 'rich' and lively. She is very slender, nearly gaunt.
Since first coming to the labs, she has gained a few scars, one running across her chest, another from her belly curving upwards to almost meet the first, both of these thin and ropy, single lines marring her scaled hide. Another is on her upper left arm, this one a faded, small star of tissue.

While she rarely may wear a strange harness and loincloth, she usually does not wear any clothing beyond a belt with a few pouches and a knife tied to it.
Mental and/or Social Description:
Friendly, curious, and perhaps a bit ridiculous, there is nothing really all that threatening about Haix. She rarely interacts with others, though this is more due to making others uncomfortable with her odd phrases, behaviors, and tendency to carelessly mangle Common on the few occasions that she has a chance to interact. Of course, she is fine with soft-skins and their ilk thinking her a silly old lizard.
Haix has returned to her many of her old ways, embracing them with fervor. Despite this. she still follows the law of the labs as she must to remain, eyeing soft-skins and others with a glint of hunger but never acting upon it. At least not within the boundaries of the labs. As for how she treats her property, inanimate or living, is her own business.
She does not care for healing magic, and avoids places like the monstrous temple in the labs if possible. Nor is she particularly interested in learning how to use the other kinds, instead clinging to her own form of it.(Which, yes, I know OoC can't actually do anything.) That does not stop her from utilizing some of the more 'magical' creatures.
Goals:
-Feed the hunger, hers and theirs
-Hunt
-Entertain herself
-Hunt a godling
Stats:
Level: 216.0
Stamina: 3
Strength: 3
Resistance: 3
Dexterity: 4
Mentality: 3
Attribute- Hardy
Traits-
Jack of all Trades
Dark Secret
Falcons Grace
Cat's Balance
Prejudice
Rat's Blessing
Skill Groups-All (Or none, in accordance of Jack of all Trades)
Skills-
Runes(4)
Foreign Language-Common Rank 2(4)
Foreign Language-'Swamp Cant' Rank 2 (4)

Foreign Script-Common Rank 2(4)
Foreign Language-Laiyan Rank 1(2)
Mythology Rank 5 (5)
Riddle Speaker(1)
Local Lore-Her home(1)
Proper Language(1)
Tribal Dancing(1)
Mason Rank 3(9)
Architect Rank 3(9)
Plant Lore(1)
Berry-Picking(1)
Toxin-Wise(1)
Sleeping Salve(4)
Herbal Healing(2)
Herbal Cure(2)
Healing Salve(5)
Curing Salve(5)
Lesser Poison(2)
Rogue(3)
Fearful Presence(4)
Barter Rank 2 (4)
Blade-Mastery(8)-4 Ranks
Brawling(4)- 2 Ranks
Vigilance(12)-4 Ranks
Ghost Rider-24
Magical Awareness(2)
Mystic Shield(1)
Swimming(1)
Fisherman-Rank 4(16)
Harpooner(8)
Wisdom of the Reef(2)
Climb(1)
Cleanse Water(1)
Cartography(2)
Wild Speak(3)
Cliffhanger(4)
First Aid(1)
Wilderness First Aid(4)
CPR(2)
Skinning(1)
Knot Know-How(1)
Mending(2)
Trap Setting(15)
Tracking(4)
Advanced Tracking(8)
Suck Poison(2)
(Currently have: 12 Skill points to spend)
Skills from Books:

-Mythology(Pantheon – Order, Chaos, Light, Dark ; Luck, Dream, Harvest)

-Mythology(Godly Creatures (Ysasth, Messenger, Mortavos))

-Mythology(Avian Gods)

-Mythology(Ssashirk Gods)

-Mythology(Fae Gods)

-Local Lore(Wild Draconics)
-Local Lore(Tumai)

-Local Lore(Ocean Sirens)

-Local Lore(Marsh-Walkers)

-Local Lore(Forbidden Forest)