Post by Darky on Apr 12, 2019 7:00:22 GMT -6
For listing of creatures in ownership, but not present in the Labs.

- - - - - - - - - - - - - - - - - - - - - - -- - - - - - - - - - - - - - - -

- Customs / Uniques -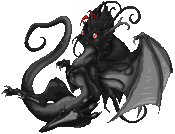 Oni
(male)
Level: 0 (0/5)
Loyalty: 0 (0/5)
"..." ...
- - - - - - - - - - - - - - - - - - - - - - - - - - - - - - - - - - - - - - -

- Offspring / Crossbreeds -

Aeneus (male)
Level: - (0/5)
Loyalty: 2 (0/5)
"Made of Copper, Brazen." More
neutral than initially apparent, Aeneus doesn't approve of neither
wholly goodness nor wholly malignancy. As such, he has difficulty
relating to his mother, but less so to his half-brother and cousins. In
any situation, this ghaenelt would be the one to try compromising a
balance between clashing forces, so long as blood can be avoided. With a
lack of common ground, Aeneus has been generally left to quite bleak
dispositions.
( Aequitas + Aharon )
Credo (male)
Level: 0 (0/5)
Loyalty: 2 (0/5)
"To Believe, Trust, Commit." Chaotic
good. That is the only possible description for Credo that would
encompass all of his personality aspects. Where his mother taught him of
the law and the good and evil, whatever gaps were left had been filled
in from observations of the surrounding, warping his mother's initial
one-sided teachings. Credo will obey to those who he deems good or just
(or simply worth it), but is eager to challenge the rest, both in a
friendly manner as well as on a more serious level. With boundless
energy and an almost morbid enthusiasm, it is tricky to get beyond his
affable demeanor.

( Aequitas + That-Word )

Nila (female)
Level: 1 (0/5)
Loyalty: 3 (0/5)
"Dark Blue."
Just as everyone expected, this stagnant grew up to be much like her
father. But perhaps the more intriguing factor, one that seems to
separate them quite a lot, is the fact that this stagnant hasn't become
favouring of their caretaker. Now that the disease has left her mind, a
sharp and cunning wit has come forth from behind it, perhaps proving to
be even more dangerous and sharper than that of Sadon. But certainly
there are several traces of her other 'parent' as well, which tend to
kick out at odd times.


( Flash + Sadon )
Cainea/Caoineadh
Level: 0 (0/5)
Loyalty: 2 (0/5)
"A lament." While
most thought the other crossbreeds to be scary, they certainly had to
review their position when Cainea came around. Not only is she
dangerous, but she's also literally a pain to be around, due to the
screaming and screeching habit. An interesting turn of events, however,
has been Necran's almost obsessive attraction to the half-breed, no
doubt caused by the poor thing's curse, if it were called that.
( Corén + Fhér )
Caries (female)
Level: 0 (0/5)
Loyalty: 2 (3/5)
"Rottenness, Corruption, Decay." One
to sidle up and smile, then nip at your very shadow, Carrie isn't too
far removed from what Thalassina might do. However, where the tat-lung
does it out of a morbid variation of childlike innocence, Caries' excuse
is nothing of the sort. For her it is merely a form of hunger
satiation, for both affection as well as nourishment. As a result, she
is also the one to not shy away at visitors, rather the opposite - being
the first to seek them out, in rather not very lurker-like fashions.

( Kteino + Em )

Kiri (female)
Level: 0 (0/5)
Loyalty: 0 (0/5)
"Tree Skin, Fruit Skin." Being
impervious to most attacks made on her person, there is little this
half-breed shies away from. With her combined forced with Fhér, the two
have begun something of a quest of mischief, aiding one another whenever
possible if not, indeed, having become quite the best of friends. The
only obstacle for both thus far has been their relative small size,
though the fierceness of spirit and determination more than makes up for
it.
Poliosquam (male)
Level: 0 (0/5)
Loyalty: 2 (0/5)
"Greyscale." A
bit of a blank slate, if one could describe a personality as such. Or
perhaps just more apathetic than normal, or than one would expect to
see. Still one half of his heritages shines through, as like other
egg-snatchers he too tries to sit and wait to be granted painted eggs.
Sadly, he cannot seem to come to understand why most tend to run, rather
than give.

Umeko (female)
Level: 0 (0/5)
Loyalty: 0 (0/5)
"Plum Child." Inherent
from her izer parent, Umeko, though lacking the shine of rainbow like
many of her siblings, has a deep sense of right and wrong. Said sense,
however, is sadly often quite simplified and tends to being more
discourse with the more brawny residents than harmony, but none the
less, her self-giving and reliable nature has made her respected among
the others, in particular of like-minded creatures (such as the
Crusaders).
Zella (male)
Level: 0 (0/5)
Loyalty: 0 (0/5)
Zella
believes that the world revolves around her. If she doesn't get what
she wants WHEN she wants it, you'll definitely find some ripped up
curtains or your couch shredded to bits. She enjoys attention, but ONLY
when she wants it. If you pet her while she's taking an afternoon nap,
or eating her meal, she'll definitely give you a nip and a scratch.
Cinerqu (female)
Level: 0 (0/5)
Loyalty: 2 (3/5)
"Ashen Horse." Of
all the four hell-kelpies, this one seems the least energetic, the
least joyous and definitely the more altruistic. At first glance, the
appearance of her stoicality and underlying air of sadness may almost
lead one to assume depression, yet that is hardly true. Not many outside
their home, if any at all, have managed to see or hear her speak,
leading some to assume muteness, but that as with the depression is
quite false as well. Ghost-like in her demeanor and movements, Cin has
creeped quite a many of the local inhabitants.
Niamh (female)
Level: 0 (0/5)
Loyalty: 2 (0/5)
"Bright." Almost
as soon as she arrived, Bilious took a liking to her and trying to act
as much as a father as possible. Granted that so far Niamh has found it
more amusing than educational. They both are of a light-hearted and
eternal-optimism way of thinking, making their bond unusually strong.
Niamh might be a foster child, but seems to have no trouble what-so-ever
with settling in. Even enough to gain some favor (although not total)
from Nightmare, which is a feat on it's own.


( Xenu + Tara )
Erro (male)
Level: 2 (2/5)
Loyalty: 2 (2/5)
Despite
his size and strength (as well as age), Erro is still quite child-like
in mind, and naive in action. What others say seem to be as much the
truth as anything else, leading instances where this is taken use of.
Fortunately for those who manage this, but are found out, he rarely
wants to get revenge, choosing to more show disappointment and wounded
at their actions, than direct violence.


( Reflection + ?? )

Saraswati (female)
Level: 0 (0/5)
Loyalty: 2 (0/5)
"Possessing Water." Ah,
when Duncan is much like his mother, Saraswati took after their father,
Hadlan. Least.. as far as personality goes. By appearance, she's almost
an image of both combined. Much as he was when young, she too likes to
examine and 'stare' at others who might come across. But other than
that, is fairly more placid and less grumpy. Maybe she's snagged some
traits from her mother after all? One could hope.


( Hadlan + Gen´iler )
- - - - - - - - - - - - - - - - - - - - - - - - - - - - - - - - - - - - - - -

- Custom Specials / VSC -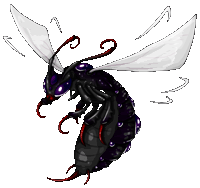 Aquila
(male)
Level: 1 (2/5)
Loyalty: 12 (2/5)
"Eagle."
If there ever was a General at the Hideout, Aquila would be the undoubted holder of this position. With Tacitus managed in patience and complacensy, there are precious few others who could give Aquila a run for his money. In action, decisive, in mannerisms, disciplined - the only obstacle in his path to such power is a lack of prideful ambition. Given enough trust can be put into one, he would have no issue following commands, no regrets of most actions.
Calcuti
(female)
Level: 3 (1/5)
Loyalty: 10 (1/5)
"Stone Skin."
One of the first other females to join in on the pack, Calcuti had a difficult time finding a place between the rough-necking others, without compromising her immunity in terms of being driven off. She tends to show a lot of respect to others, if only to hope (or expect) it to be returned, but cannot help a sense of thriftiness and flight that the carefree Petrel and Terhi often enough bring about. Despite the shaky pack-instinct formed from bonds of semi-brothers and -sisters, Calcuti is more willing to rely on herself than others.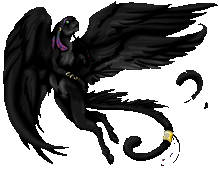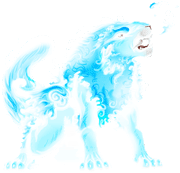 Cryptanth
(female)
Level: 0 (0/5)
Loyalty: 2 (0/5)
"Hidden Flower."
A quiet and soft-spoken little soul who likes to be elusive and often times staying in the background. Her only quirks seem to be an unusual fondness of flowers and bugs, while everything else seems to be of a placid sort. She hasn't taken up any sort of position in the little mosca pack, but the other two don't seem to pester her much about it. On the contrary, they act like big brothers to her and are quite protective.
Dipti
(female)
Level: 5 (0/5)
Loyalty: 12 (0/5)
"Brightness, Light."
A fairly mild spirit towards others, Dipti has the capability to be considerably nasty, but because of the awareness of this, she is always ever trying to avoid doing so. The idea stuck within her mind is that it takes strength to be good, rather than evil, and although some of her actions can sway into the grey range of the morality spectrum, she is never shy of an explanation of them. Despite her own forced code, it all is set aside when push comes to shove, or when the situation is so morally ambiguous there is no plausible right and no plausible wrong.
Mila
(female)
Level: 0 (0/5)
Loyalty: 7 (0/5)
"Dear, Pleasant."
The name is deceptive, one can be assured as such. This salaves is by no means pleasant to be around, primarily because of her tendency to nip and bite out of sheer boredom. While one could dismiss this as a childish habit, the fact that this childish creature is poisonous can create quite a problem. Though, she herself seems rather oblivious to the dangers it can present. Perhaps optimism or just plain ignorance?
- - - - - - - - - - - - - - - - - - - - - - - - - - - - - - - - - - - - - - -
- Specials / Event Creatures -




Absinthe
(male)
Level: - (0/5)
Loyalty: 2 (0/5)
A self-proclaimed adventurer, Absinthe is always the first to brave the new and unknown, but also the first to decide to return to safety should things go wrong. It seems a natural sense of caution, although slight, is often fighting with a drive onwards and into the unknown. At times, this makes him seem almost dual-minded.
Lilac
(female)
Level: 0 (0/5)
Loyalty: 0 (0/5)
Spunky and loud. VERY loud, if one's ears are more finely attuned to the surroundings. It almost seems as if even a steel tin wouldn't be enough to contain her, the excitement and cheery included. Where Absinthe comes into doubt, Lilac pushes them all onward with whatever they had decided to pursue. It usually doesn't matter to her what it might be, so long as there is something.
Ranapembe
(female)
Level: 0 (0/5)
Loyalty: 0 (0/5)
"To Gaze Pink."
Of the three, the most quiet and calm. Granted, not much brashness could be stuck into her nature anyway. Soft-spoken to a degree, she is the last to follow Absinthe anywhere outside their own area, unless Lilac were to heavily insist, or even drag her along.
Unnamed (male)
Level: 0 (0/5)
Loyalty: 2 (0/5)
...

Adva
(female)
Level: - (0/5)
Loyalty: - (0/5)
"Small Wave, Ripple."
'Active' and 'fickle' are keywords used to describe this particular little bugger, as she is both surprisingly industrious in taking up causes as she is of appreciating things considered 'beautiful'. In the case of this particular sushi monster, those often fall in the 'shimmery fish' category. Though, for everything else, there is the cool, cold and light gray shoulder..
Bastmes
(male)
Level: 0 (0/5)
Loyalty: 2 (0/5)
"Son of Bast."
Aww.. lookit those eyes! They're almost.. hypnotizing.. wouldn't you.. say..? Other than a pair of curious optics, not much else is known of Bastmes, neither by other kennel inhabitants nor the sphinx herself. At least the cuddly buggery thing is getting as much attention as he wants, from nearly all the local maternal figures.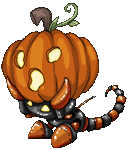 Chipo
Level: 0 (0/5)
Loyalty: 7 (0/5)
"Gift."
Small, quiet and very efficient, this little robotic wonder shows little personality, but makes up for it in its work ethic which borders an almost obsessional level. For the most part dormant in one way or another, Chipo only comes to life when picking is to be done, of any kind. This has made it quite the handy tool around the Garden, though sadly, could not be left there alone from fear of simply picking everything and anything there is, whether it is ready or not.
MN-746U
Level: 0 (0/5)
Loyalty: 0 (0/5)
..Wait, what? When did this appear here? As opposite to Cardo, Tagu is less tolerant of being seen as 'shiny' and doesn't hesitate to give a motorized shriek to fend the pestilent ghaenelts and faeron off. Another thing is it's size, making quite many of the others more wary of it's actions and current residence, especially the more paranoid ones. After all.. This one seems to have a mind not of electronics and chips, but rather of creativity and.. sentience.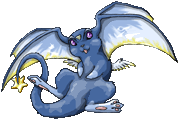 Damianos
(male)
Level: 0 (0/5)
Loyalty: 2 (0/5)
Perhaps a little less cheery than his species is known for, at least during the summer months, Damianos is a contemplative one, even if the size of a cat. Following the familiars around like a small dog, under the misconception that they know all the secrets of the undergrounds that there can be to know. Admittedly, there is reason to that. After all, some of those spoils seem so alike to shiny juicy seeds that one merely has to ask.
Mr. Melty
Level: 0 (0/5)
Loyalty: 7 (0/5)
What a strange one indeed.. Unfortunately, it seems whatever personality was with him, went with the cold. Oh well.. Until next winter.
Tähti
(female)
Level: 5 (0/5)
Loyalty: 7 (0/5)
"Star."
Preferring the nighttime over daylight, few creatures actually manage to catch a glimpse of Tähti moving around, both because she tends to manage sneaking outside, to the REAL stars, and because they are unable to expect her. Curious and kind-hearted, it is unheard of her to harm anyone or thing.. ever.
- - - - - - - - - - - - - - - - - - - - - - - - - - - - - - - - - - - - - - -
- Common / Limited Edition -

Acedy
(male)
Level: 2 (3/5)
Loyalty: 3 (2/5)
For reasons unexplained, this particular one feels an ever present compulsory need to make sure the grass is growing well and healthy in whichever area he resides in. While he himself avoids the water, he seems to still attempt trying to put something growing in it. From time to time, he ventures near the faeron nests for reasons unknown so far, but it's likely that plans for plantation in that area are being drawn somewhere in his simple mind.

Acervus
(male)
Level: - (0/5)
Loyalty: 2 (0/5)
"A Heap, Mass" ---
Amalthea
(female)
Level: 10 (0/5)
Loyalty: 12 (0/5)
On the outside, it seems she's an almost exact copy as Dipstick, but one would know better than to assume that. Personality-wise, they are very similar, both being positive and fun-loving, but the difference comes from how they relate to others - While Dipstick will go to anyone who wishes to meet, she will only go to those who come to her, in a way an opposite of her brother.
Dipstick
(male)
Level: 1 (2/5)
Loyalty: 2 (3,5/5)
A fun-loving slightly eccentric little soul, who's only fault seems to be the ever enthusiastic want to meet others. It doesn't matter who it is, so long as they can talk, Dipstick will be interested in responding. One would assume someone as positive as him would also show some hyper-active traits, but apparently not - the felusine is placid and calm, not exactly lazy, but not bouncing off the walls either.
Andrew
(male)
Level: 0 (0/5)
Loyalty: 2 (0/5)
Another flip-sided sibling pair. Andrew is very lively and active, being rarely asleep and often climbing the trees located in the pen. While he and Daniel fight quite often, he sees Daniel more as a crabby, too-serious and definitely off his nutter type, at the same time, denying all his impulsive, kleptomaniac and spontaneous traits. While speaking of stealing things, he has an even bigger kleptomaniac habit than the other slynks in general. Often rather friendly and not as aggressive at first, he had a better chance of actually making friends.
Daniel
(male)
Level: - (0/5)
Loyalty: 2 (0/5)
Quite resourceful and definitely more perceptive as well as contemplative than his brother Andrew. While his constant mood is rather serious or at least more quiet in nature, he does have a knack for biting and snapping at creatures he doesn't like. For some reason, he seems to have slight bitterness.. It is unknown against what. At other times, he can be rather devious and determined, although it gets balanced out by his irrationality. Normally, he keeps to himself for the most part, only sometimes socializing with others.

AnoriDané
(female)
Level: 5 (0/5)
Loyalty: 7 (0/5)
"AngelDemon."
The middle nest in the area is home to this hydra ghaenelt and is the largest as to fit both of them. While active and quite energetic, she also has a knack for the most mischief. While mostly solitary, she seems very curious of her surroundings, including other people or animals. It isn't quite sure which of the heads is which, but her personality seems rather dual in concept. Sometimes, she thinks up complicated plans which would normally require two people.. Of course, she also has two heads so that makes sense.
Khér
(male)
Level: 2 (4/5)
Loyalty: 2 (0/5)
"Chaos."
The first part of the Let's-Cause-Mayhem Team. Khér is known to pry things open, just to see what's inside and generally doesn't stop until he does. He has also caught a bit of a hoarding knack for anything round and with even the smallest glimpse of light reflecting off of them. If one has lost something, one should look into his nest area first.
Bellicus
(male)
Level: 2 (4/5)
Loyalty: 4 (4/5)
"Martial, Military, War-like."
Brash, bold and several other words starting with 'b', Bellicus seems to crave for both attention and a challenge. The latter can be in any form whatsoever, so long as it includes besting someone else. If he himself is bested, however, a fight is more than likely to ensue, as this wiurn is one sore loser.. Those smart enough (or weak enough) have generally let him win, as to avoid that.
Sciomelior
(female)
Level: 5 (0/5)
Loyalty: 7 (0/5)
"To Know Better."
Surprisingly social for a wiurn, Scio is ever in trouble for trying to get into anything and everything imaginable. Whether it is secret nooks or social circles, it's all the same for her. Such actions do not come without certain dangers, thought most of those the wiurn seems to have mastered to a degree. What she hasn't learned, will teach her, one way or another.

Calandrus
(male)
Level: 10 (3/5)
Loyalty: 10 (3/5)
For a Mosca, Cal is too overly curious and this bit too adventurous, springing at the opportunity to travel somewhere or to simply go visit some place or someone. He often does not hesitate to show his speed, as if to confirm who is one of the top hunters if there ever were a contest. Despite his pride, he can be very friendly.. and this bit mischievous at times. Another knack is his habit of wanting to climb trees, so far with little success.
Crathe
(male)
Level: 5 (0/5)
Loyalty: 5 (0/5)
"King, Ruler."
Crathe spends most of his day under the trees resting and observing the area. On many occasions he gets a bit bothered by Cal whenever the flighty mosca feels more bored than usual or competitive. He knows he's slower than him so he refrains from any races with the other mosca. Crathe is more regal and laid back, which explains why there hasn't been a clash between the two yet.
Deg
(male)
Level: 7 (1/5)
Loyalty: 2 (0/5)
"Flame."
Most likely the most trickiest pet yet. To accommodate him, a specific new fish tank had to be brought into the house. The water in the tank boils, while the bottom is lined not with sand, but with rocks. Due to the.. scent coming from the water, a specific lid had to be installed- it keeps the smell in while still allowing to feed the critter without having to faint. He also seems to have a fixation with items, people, pets, creature or anything else of a specific yellow colouration.. How odd.
Rane
(male)
Level: 7 (1/5)
Loyalty: 2 (0/5)
A long way since his first accidental confrontation with the agate, Rane has become something of a daredevil, seeking out adventure and excitement wherever there might be some. During such a course, he has developed (quite quickly, mind) a sense of caution as well, as the tilvanders are not known for their most.. resilient nature.
Em
(female)
Level: 0 (0/5)
Loyalty: 0 (0/5)
Short for 'Emerald'.
Em is quite affectionate, active and extremely playful. At least, whenever someone is around, she is. When there are too few or too many people having her attention, she becomes elusive and prefers to hide among the kelp forest at the bottom of the tank, as much out of sight as possible. On occasion she would be given the task of looking after some new younger aquatics, some times not quite understanding the task given to her.. But appears to be able to do a well enough job so far.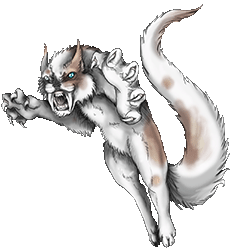 Frendo
(male)
Level: 0 (0/5)
Loyalty: 2 (0/5)
"Gnash the teeth, Crush, Bruise, Grind."
(Aspiring, Unkind, Excitement)
Gen´iler
(female)
Level: 1 (2/5)
Loyalty: 2 (0/5)
"Shroud River."
After her growing she has completely abandoned waters. Well, near completely. Other thank drinking and the (very rare) occasional dip into the pond, she doesn't even touch it. Now that she is more fully formed, one can discern an actual personality. It seems her habit for digging around in sand has remained, despite there being very little sand in the room to speak of. As such, she has her own sandbox now where she spends most of the time. From time to time, the owner buries various items there for her to find, thus avoiding her becoming too bored.
Hadlan
(male)
Level: 1 (2/5)
Loyalty: 2 (0/5)
"Death Creature."
Despite his name, Hadlan is quite docile and calm. Now that he has grown up, one would expect his old habits to be washed away. But apparently not. He still seems to be this bit crabby towards others and still has his quirk of glancing at people either suspiciously or inquiringly, which can drive quite the many past the point of annoyance.
Hel
(female)
Level: 0 (0/5)
Loyalty: 2 (0/5)
For reasons unexplained, this particular one feels an ever present compulsory need to make sure the grass is growing well and healthy in whichever area he resides in. While he himself avoids the water, he seems to still attempt trying to put something growing in it. From time to time, he ventures near the faeron nests for reasons unknown so far, but it's likely that plans for plantation in that area are being drawn somewhere in his simple mind.
Laula (female)
Level: 0 (0/5)
Loyalty: 2 (0/5)
"Sing."
Though initially left out due to what had been called a 'mutation' as far as wings were concerned, Laula was soon enough accepted into the flock, thanks to Maronith's efforts. Her name is almost jinxing, as whenever she is by herself (and it is more often than their collective mother would deem right), Laula has a tendency to chitter out tunes, to no-one in particular but herself or the immediate surroundings. Quite a dreamer, the harsh logic and reality of the world seems to almost bounce off of her mental frame, too crude and terrible for it to be accepted.

Lividus
(male)
Level: 0 (0/5)
Loyalty: 2 (0/5)
"Blue, Envious."
This particular salaves' name can be quite misleading as Lividus is anything but jealous. On the whole his outlook on life and others tends to range in the positive category, rarely ever assuming anything of anyone. Although spouts of deep thought (to a salaves, anyway) are quite common, most find it relatively easy to get along with him, primarily due to the honesty he shares.. Though, on the flip-side, some may think him to be a bit too honest for his own good.
Lunar
(female)
Level: 9 (2/5)
Loyalty: 7 (4/5)
This drej is quite mysterious. Despite being of a lighter colouration than her brethren sub-breed, she still seems to have a habit of lurking in darker shadows. How she can manage to determine which shadows are darker or lighter is unsure, but so far credited to her light sensitivity. It cant be determined what type of personality she has.. other than being elusive. And quite snappy when pushed.
Pythia
(male)
Level: 10 (3/5)
Loyalty: 12 (3/5)
"Pit, Deep Hole."
He's the flip-side of Lunar. While the cave drej is more calm, this berserker is the one to take action first. Since he's not sensitive to light, he sometimes ventures outside the enclosure. Most other pets, especially the curious kind, learned quickly that a growl means 'Don't touch or I'll snap at you'. He can easily be located anywhere within the Hideout grounds. One just has to listen well and catch his echolocation.
Miche
(female)
Level: 0 (0/5)
Loyalty: 2 (0/5)
Ah, a most intriguing soul if there ever was one. Some might call her the walking controversy, which would fit even, to some degree. That nature mostly comes out in her ability to keep a constant state of grumpiness, including all the sharp and snappy remarks (sometimes even literally being 'snappy'). But at the same time, she seems to tolerate a select few others with amazing patience, giving in to their games or jokes even if not wanting to.
Midas
(male)
Level: 0 (0/5)
Loyalty: 2 (0/5)
As befitting his breed, Midas took it upon himself to claim the top of the hierarchy as the leader and warrior. He still seems to answer to Miche at that point, which technically puts him as the 'middle' in the hierarchy, but you wont see him admit to that any time soon. Instead, he continues the 'tough guy' act for as long as possible.
Mimme
(female)
Level: 0 (0/5)
Loyalty: 0 (0/5)
"Small One."
The second member of the Let's-Cause-Mayhem Team. She and Khér have a history of teaming up on a number of occasions to either snatch something one of them alone couldn't or to just have 'fun' with someone they normally wouldn't. It should be noted that she is also fierce to squabble over specific shiny items at times, but usually surrenders them if she's given something to focus her attention on (usually another item). Mimme's nest under the large fern contains nearly every small shiny item one once could find in the kennel's storage areas.. Considering she rarely leave the enclosure, that's saying some.
Spica
(male)
Level: 13 (4/5)
Loyalty: 10 (0/5)
As opposite to Mimme, Spica rather likes his own little private nest among the lush mayflower and hyacinth leaves. He also seems to resent any of the other faeron's overly chipper and hyper attitude, especially when he's trying to take a nap during the day (an unfortunate situation, due to Mimme being non-nocturnal). At night, however, he leaves his nest and heads for the set of smaller windows under the ceiling. It's not unusual to see him sitting behind those windows, staring at the stars above. Unbeknown to everyone else, he has started to give names (or words he uses as names) to most of the tiny celestial spheres.
Nephrite
(female)
Level: 6 (2/5)
Loyalty: 4 (4/5)
So far seems the most docile of the previous three. She stays inside the pen, granted that fresh meat is brought on time and seems to show only mild interest at anything beyond that. It also appears that a sort of reluctant understanding is beginning to form between her and one of the ghaenelts, Khér. This is due to Khér being annoyingly curious.. but also nip-proof, due to his skin. Nephrite has accepted him only because she can't scare him away and would rather not admit to being the losing side.
Oisin
(male)
Level: 9 (0/5)
Loyalty: 11 (0/5)
"Little Deer."
One would think this to be the galabex version of Crathe, the local king mosca, and yet they aren't quite exactly the same. Oisin for one, has a lot more patience, but also a lot more temper when finally being thrown over board. He keeps the peace between various neighbouring pens, acting as judge and sort of commander, but never goes as far as asserting his authority.
Rajani
(female)
Level: 0 (0/5)
Loyalty: 0 (0/5)
"Dark One."
As per the nature of her breed, Rajani is elusive, asocial and rather gloomy. A true flip-side. And yet, in an odd sense, these aspects seem to work quite well together, given the possibility and chance (but mostly due to Bontay's help in the matter). Both of them like their independence, Rajani more than the foxfire, but at the same time, seem to have formed a certain understanding and perhaps even.. respect.
Ramirus
(male)
Level: 3 (0/5)
Loyalty: 5 (0/5)
One to take action when needed, he quickly set in place the new rules of the pen. Those rules were that the pteropty stay in their nests and the rest do not come poking around out of curiosity. Although showing quite a lot of determination for a creature who started out the size of cat, Ramirus isn't by any means a bully nor overly expecting. He just wants others to know how things stand and expect them to follow them. Until that peace is disrupted, he will make no gesture towards misusing his influence (read: venom) nor picking on others.
[ Pure Equillion, dead ]
Sirpale
(female)
Level: 6 (0/5)
Loyalty: 8 (0/5)
"Small Piece, Fragment."
This particular equillion seems to be a perfect mix of kindheartedness and a handful of faults that annoy. One such fault is the constant need to know. Nothing specifically, just in general, know whatever is out there and why it is there. The second more prominent fault is her tendency to chat while not paying attention if any of that is reaching her conversational partner. While she herself is aware of the latter, the flaw is none the less persistent to pop up from time to time, until realization hits and is followed by apologies.
??
(male)
Level: 0 (0/5)
Loyalty: 0 (0/5)
..Quite honestly, no-one knows who or where this one came from. (Queued for revival)
Snow
(female)
Level: 0 (0/5)
Loyalty: 0 (0/5)
Because of her sensitivity to light, she keeps near the willows-esque mini-trees, right where the largest shadows are during the noon as to avoid the sun from the skylight. She has managed to get along well with the local faeron, going as far as forming a certain friendship. It is suggested that because of Snow, the faeron's treasure nest has grown seemingly, the lerrel being tricky enough to unlock and open doors or even windows into the rest of the pens or storage areas.
Speedy
(male)
Level: 0 (0/5)
Loyalty: 2 (0/5)
Speedy warmed up to Mear quickly, both figuratively and literally. Thankfully, the tat-lung is no stranger to getting his fur scorched. The intent was good, however, as Speedy seems to think of Mear as a larger and fluffier version of his parents. Some of his other habits include running off to meet new creatures, pyromaniac tendencies and finally.. a knack for running in general. His over-all demeanour can be summed up with the word (no pun intended) 'chipper'.
Tacitus
(male)
Level: 5 (2/5)
Loyalty: 17 (1/5)
"Silent, Mute."
A speedball of all the other creatures, Tacitus is as unpredictable as he is creative in his imitated mannerisms of hunting or stalking (since fair few of the Hideout inhabitants actually have anything remote dragon-like in their blood). What he percieves to own, he is not likely to share and thus can become rather combative when sharing food is in order. Despite the fault, his precision is such as well, to a fault, and one that should be carefully reminded when dealing with this one.