Post by Jack on Apr 18, 2019 13:26:36 GMT -6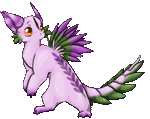 This is our mascot, Lavender. Isn't she sweet?
Welcome to the Pachee Pollen Project! The PPP is currently looking for new ways to modify the genetics of Pachee.
Recently, we've discovered a way to use certain plants to influence the growth of an unborn Pachee kit. Unfortunately, we're scientists, not gardeners. We ran out of plants! That's why we need your help with our research.
All you have to do is donate some plants to the project. We'll record the results, and turn the new Pachee over to you as thanks for helping!
- First, you need to gather 6 of the same kind/species of plant. You can use any kind of basic garden plant. (Includes all fruits, berries, flowers, grasses, vegetables, and other plans, but not pocket pets or rocks.)
- The plants do not all need to be the same color, but it seems that the
most common
color of the plants shows in the results.
- We do not accept plants harvested from other creatures. The results are... too unpredictable.
- Post your plants here to turn them in. The process destroys the plants, so they will not be returned to you.
- Special! We've had some interesting results with the Sapling Spriteling flowers. The best part is we only need
4
of them to conduct the experiment!
PPP Stats:
All PPP pachee are Male, as such, they follow the base stats for basic male pachee.


However, if a PPP pachee has an addon, they get a very specific added move or ability. The list is below. These can pass down from PPP parents/ancestors, and if they do will pass down their added move/ability. Note that just because your offspring pachee has one of these doesn't automatically mean that they get the added move/ability- they only get this if their PPP ancestor passed it down. Offspring with custom or offspring ancestors may follow different rules.
Addon + Added List
1. Any Wings = Fly
2. Small Horns = Thorns
3. Moose Antlers = Horn Strike
4. Mane = Loosen Fur
5. Fins = Swim
6. Back Fin = Blubber