Post by Renathan on Apr 25, 2019 13:40:32 GMT -6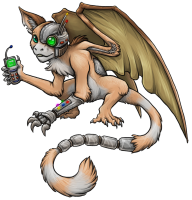 The metal doors recognized the body of a living creature, and gave a mechanical "beep" as they slid open on their own accord. The shiny linoleum down this corridor seems to have lost most of it's pale-green shine, so you can no longer see your own reflection upon the floor. You may follow the signs (or even the complimentary map from the front desk) that would lead you down the florescent-lit hallways toward the legendary "East Wing", where Cyborg enhancements and replacements were possible.
The farther down toward the "East Wing" you head however, the less shine it seems to have. Lights begin to flicker overhead, and.. *crunch* ... glass..? Yes indeed, glass upon the floor, a window of what was once glass and mesh shattered, leaving the remains of it's pieces behind... This... is this the right way? Yeah, the signs are still pointing.... the map.. yeah...
The lights flicker overhead, and now you can see the charring on the walls that were once pure white like the rest of the laboratory. The remains of a fire is here, and you can still smell the smoke in the air - it seeped in through the walls, leaving it's stain.. forever this hall would smell of fire, unless the decided to renovate.... is this the right way? Maybe it's closed...
*flap flap*
What was that?
"Are you just going to stand there, or are you going to come inside?"
The shrill and raspy voice cursed at you, irritable at best - and perched at a door-frame, it's door halfway off it's hinge, sat ... is that a Lerrel?
This creature, sitting before you - a monstrosity of half-machine, looked at you from one cerulean eye, the other a lens of green glass, a soft light glowing from within'. The creature held a clipboard in his good hand - and a walkie-talkie looking device in his other - a cold mechanical thing of raw steel.
"...Well?" he repeated again, fluttering his two wings made of cog and burlap sack, the stitches cutting clear into the flesh of his back, "You coming in? Or are you lost?" the small creature muttered a curse or two under it's breath, and walked back into the door.
Inside was an assortment of tables, parts, bits of machines, wires, threads, buttons - metal on the tables, and floors. Beakers, jars broken... Such a mess.. Indeed, the bulk of the fire was here.. but is no more.. Now, it's just a wreck..
"The engineer is out for lunch... but I can take your order... you do have an order, don't you..?" the tiny beast muttered, half to himself, as though he'd really rather you be lost - than want to purchase anything.