Post by Lethalia on May 19, 2019 22:54:46 GMT -6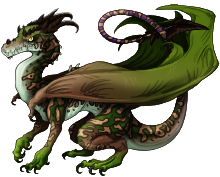 Originally, the woman had wandered out here with Vidarr in the muggy spring day to try and teach him some manners with a neck rope; he wasn't having any of it today. Being told what direction to go? Definitely not interesting. It was too hot for the saddle the drake had protested, albeit in his own much more brief wording. Maybe she'd get him into doing some work in the heat, just to spite his reasoning. He'd have to learn someday... even if it
is
after the tournament at this point.
They were already out here in the tamped down training area, so she might as well make the most of it! So what her drake might not be steered for an amount of time more, but the biggest trips they'd be taking in the near future were going to be to the pit. Might as well keep at that, instead.
|Okay. You're stronger than most drakes,|
she states, shifting gears; it was easier to appeal to him, wasn't it? A statement like that would do the trick, and the drake puffs up a little at the compliment, inclining his head as if to prompt her to continue on about his prowess.
|That means you could overpower them, hold them down.|
Vidarr returns to his previous state of looking completely unimpressed, despite her efforts. After all, he'd just taken out so many with his crushing maw alone, hadn't he? Why bother
struggling
for any amount of time?
Lethalia really... doesn't know how to show him how to do this one, without the use of more live prey. And that just... yeah. It fucks with her too much. Too bad she hadn't taught him this one when he was a baby, it would have been so much simpler to just get a hatchling to latch onto a game of tug-of-war!
...Actually.
|Well then. Come play with me? See if you're stronger than me!|
Though the statement was a little rhetorical, it's one of the few times she's seen Vidarr balk when his power came into question. Lethalia quickly realized perhaps it was the wrong thing to ask him; it may be a sore spot that she's truly the only one who has 'defeated' the drake in the pit thus far. Not before he got one better hit in on her, but they wouldn't talk about that, either. Even so, she's pretty sure there's no way Vidarr isn't aware that he's the stronger of them both. There's been no reason to question her authority or fight back against her gentle hand, and so the status quo had remained as it was for quite some time.
Vidarr lv|105.1 ly|77.1
vice grip|1