Post by Flare on May 1, 2019 20:21:04 GMT -6
Encounters: On
Flare
Usable Skills in Gardening
: Agriculture (rank 3), Expert Gardener
Plant Lore, Toxin-wise, Berry Picking, Herbal Healing
Magical Awareness, Feel the Node
Usable Skills with Critters
: Floral Bond (rank 3), Natural Bond (rank 1),
Items









Bonsai






Bonsai pixels from the very talented Miirshroom on Flight rising's tumblr archive
Bonsai pixels













Mjusi
Assumed Male
Skittish, calms in darkness, originally captured in the cellar of the Laughing Skull Tavern
Level: 6; Loyalty: 4
Stamina: 1
Strength: 0
Resistance: 0
Dexterity: 4
Mentality: 0
Special Abilities: Natural Antivenom
Moves: Dodge, Intoxication, Euphoric Vapors

Name: Polenipaka (Pak)
Male, polygamy (willing to take multiple mates)
Level: 9; Loyalty: 12
Given to Flare by a stranger in front of the breeding center, opportunistic, perfectly happy to share his pollen with any female, enjoys some dry and sour berries as treats, does not like being touched by non-pachee, lead male of pachee pride
Stamina: 3
Strength: 2
Resistance: 1
Dexterity: 3
Mentality: 1
Special Abilities: Chlorophyll
Moves: Tail Slap, Pollen Dust, Verdant Whisper

Name: Babyrie
Undetermined Gender
Wild trespasser in the gardens, eats the thorny brush in the compost primarily, very quick
Level: 1; Loyalty 2
Stamina: 5
Strength: 4
Resistance: 2
Dexterity: 4
Mentality: 0
Special Abilities: Jungle Dweller
Moves: Dash


Name: Monarch [Mfalme]
Assumed Male
Treats being handled/carried as unwanted flying lessons, prefers woody herbs to berries as a treat, believes Flare is brain addled to the point of getting frustrated at his simple treatment of himself, a bit clingy when out of season
Level 10, Loyalty 13 3.5
Stamina: 2
Strength: 1
Resistance: 0
Dexterity: 1
Mentality: 1
Special Abilities: Thorny Body, Cold Resistance, Fire Weakness
Moves: Healing Berry, Scratch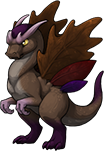 Name: Castor
Male
Loves to sunbathe, eats live worms, don't attempt to sample the leaves, believes himself to be the boss
Lv 5 Loyalty 8
Stamina: 3
Strength: 2
Resistance: 1
Dexterity: 3
Mentality: 1
Special Abilities: Fly, Cold Weakness, Acid Weakness, Earth Resistance
Moves: Flame Bite, Scratch, Wing Buff


Jani Sabujab [Leaf Squirrel]
Lv 4 Loyalty 7
0/3

0/3
Pachee offspring kept in Journal
[Here lies the skull of Scorpion]
Nyumba Yangu
just outside the fence behind the plot
--
Notes for Self:
-Unless effected by Floral or Natural Bond, all creatures start off loyalty 0. Exceptions are hatching, offspring or custom.
-Characters (me) gain 1 level per 20 posts. Creatures gain 1 level and 1 loyalty per 5 posts.
-Every 'level' a creature gains earns one Training Point (tp). It can be used for training. Every level a character (me) gains earns one Skill Point (sp).
-Number every post, also word count. 150 words - one creature, 200 - two creatures, 250 - three creatures.
-
Old Thread
Image credit:
The Danger Garden