Post by Evainmoire on May 10, 2019 4:33:38 GMT -6
Name: Evainmoire Pholier (e-vaen-moer' f'oh-le-er)
Species:
Lepus Noctis Mammalian
Gender:
Male
Age:
47
Native Language:
Common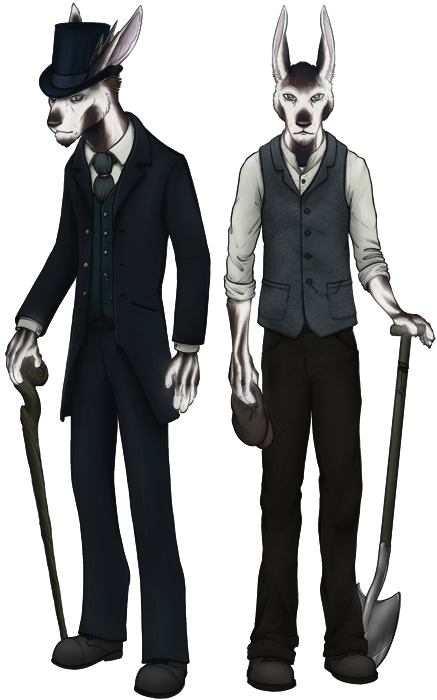 | | |
| --- | --- |
| Outing / Formal wear | Work / Non-Formal wear |

Physical Description:
Tall and venerable, a typical physique one would expect for a middle class gent, while sinew and gaunt suggesting to much more humble roots or a familiarity with labour, both light and hard. Where his frame grows thin, the structural integrity beneath dissolves the allusion of frailness, while maintaining a worn and aged look to both fur and features.
A narrow face, where the features have been prominently drawn out around the side and about the eyes, with a mixed fur of white, light gray, a dull navy gray and a pale warm brown, overlapping one another. The eyes, a dull dark brown, if not having a touch of grey to it, seem calm yet attentive, certainly having seen their fair share of events.
Despite the obviously aged look, there are two exceptions to Evainmoire's otherwise decorous demeanour - Where the posture itself is fairly straight, the head has a tendency to droop forwards enough as to leave just a slight enough allusions of hunching. In addition, the stride is often with occasional signs of problematic movement, on the left leg's part in particular and thus requires the use of a walking cane (or a shovel, in the case of being in the field at the time).
In the wake of the sphere's consumption the parts of white of his fur have begun to radiate light in a faint fashion. Secondary, it is worth notice the pupil of the eyes can sometimes come to radiate light as if from within. An illumination particularly noticeable in lacking light.
The rest of the eyes and hair remained unchanged, as has his troubled stride.
Mental and/or Social Description:
There is much to be said about Evainmoire's views of the world, all of which come down to a set code of ethics and morals which he holds in high regard (and expects those within his social circle to abide by) - a gentleman's code of honour, in dealing with men and women alike, taught from a very early age.
The son of a carpenter and husband to a seamstress, Evainmoire's life has, for the longer part, been heavily involved with practical, artisan and handicraft skills as both a hobby as well as a means of making a living. Having followed his father's example, his early life was spent creating tables, stools, chairs, cabinets and wooden panels of all design and shape, being content with the humble income it provided. Upon meeting Lydie-Cerise, his to-be wife, he sought to expand upon the artisan skill as a whole, learning stonework, ironwork and, under her tutelage, the occasional sewing, which proved vital in his eventual endeavours in learning the basics of doctoring. The two soon settled down in the town of Avoir Chantre.
Years passed with little scandal or tumultuousness coming to roam within the streets of the town, aside the commonplace banter of local rumours pertaining to one individual or another. The Pholiers were content, between Evaimoire's occupation as a craftsman for several of the local businesses, including the town's mortuary, and Lydie-Cerise's hobbies of dressmaking for the local upper class members.
The good life of all began to unwind into despair when the local doctor noted several cases of an odd sickness, which proved fatal to nearly all inflicted. Sharing signs of most common diseases, in theory easily treatable, this sickness was quick to spread to upper, middle and layman workers alike. A month after the first case had been reported, nearly half the town was diseased, had passed on or on the verge of it, leaving businesses in ruin, families in depression and houses empty and cold. The idyllic life from before quickly deteriorated, many trying to leave the plagued town before they too would be caught, very few staying to help those that would be left behind - the Pholiers among those.
When his days were not spent at the mortuary, making caskets and tombstones, he was called upon by the doctor to aid in transport or handling of patients - who more often than not joined the ranks of the dead. As quick as it spread, the sickness seemed just as strangely to leave very few completely untouched, for a while, the doctor and Evainmoire among them. It was not until a disease-crazed patient had lashed out and considerably injured his leg that the sickness (or some form of it) caught up with him. Bedridden and uncertain about surviving the ordeal, Evainmoire was only left to suffer the pain, wait and wonder.
Another month passed on by, the town of Avoir Chantre seeping into a pit of depression and decay, more and more appearing alike a ghost town than the once busy centre of local business. The sickness, for lack of those to inflict as well as the efforts of the doctor, begun to die down. Evainmoire recovered, but discovered the sickness to have left him marked with weak health and an ache in his leg, but worst of all it had taken with it, in its dying breath, his wife.
Evainmoire grieved her passing, buried those he could, blessed the doctor for his aid and service to everyone and left Avoir Chantre, a town soon abandoned completely, with a new found respect for both life and death and a desideratum to rediscover the peace once lost within the drastically changed world.
Goals: Maintain a peaceful, harmonic life. Look into the cause of the strange sickness. Look into the strange awareness of the arcane. Set up a business. Maintain a cemetery.


( Consumed )

Stats:
Stamina: 3
Strength: 4
Resistance: 3
Dexterity: 3
Mentality: 3
Special Abilities:
Danger Sense, Acid Weakness, Psychic Resistance, Light Resistance
Moves:
Magic

Level: 11 (0.5/10)
Attribute:

Danger Sense

Traits:
Bear's Strength (-1)
Jack of All Trades (-6)
Concentration (-1)
Lame (+2)
Weak Immune System (+5)
Strong Willpower (-5)
- - -
Total: 0

Skill Groups
: All (
Jack of All Trades
)
Skills:
Points: 15 (4 base + 11 level)

[ Academics ]
Literacy (-1)
Proper Language (-1)
Mathematics (-1)

[ Artisan ]
Sculptor (-2)
Carpenter (-3)
Architect (-3)

[ Magic ]
Magical Awareness (-2)
Mystical Shield (-1)

- - -
Total allocated: 14
Total unused: 1