Post by Evainmoire on May 10, 2019 6:24:54 GMT -6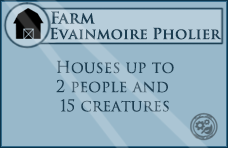 A pleasant wooden sign, carved and painted with careful detail and care, shows the place where one packed dirt path differs from all others upon the street lane, leading into a large land dotted with a sparse forest. A plain and well-kept path, peaceful in its surroundings. Ideal for those who reside here - rather, those who
truly
rest and could ask no more than to be able to sleep and slumber in their eternal requiem without disturbances. Those who know of the house and yard or have visited prior, know what the house of Aveugle Dormir truly does and deals with, but for those who have never before traversed the path, they may consider it a pleasant wooded alley.
Down the ever slightly curving path the trees begin to flank to either side, all along the way to a quaint brick-built house set in a broad clearing in the wood, but still seeming veiled by them until the very last stretch of the journey. Once beyond their cover the clearing reveals the house, situated before an expanse of black iron fence lined with well-maintained hedges taller than a man. Before it a round patch of well-kept grass ringed in a variety of floral blooms, around which the road loops before the house and yard, before meeting itself back where you stand. To the left of the house stands a gate of such dark metal, iron-wrought and sturdy. During the day one would find it open to visitors, while at dusk and in the night it is kept securely closed.
Beside the gate there is a wooden board with a listing in parchment and careful, precise handwriting, detailing the following:
Aveugle Dormir Cemetery and Mortuary
- Cemetery is open between 9 AM and 10 PM on all days.

Entrance outside of the open times is discouraged and hazardous.

For permission of entrance outside of open times,

please see the groundskeeper.

- Mortuary is open between 12 AM and 5 PM on all work days with no exceptions.

- Acts of misconduct are not tolerated and will be dealt with.

- Avoid disturbing the graves.

- Guarded by seeker.

- No solicitors.


Two carved stone beasts stationed upon stone columns on either side of the gate keep dormant vigil. Inanimate, yet quite accurate in their depicted creature form.