Post by Morgan on May 17, 2019 21:47:19 GMT -6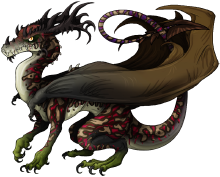 Morgan was, once again and for better or worse, not afraid.
Perhaps it was the chaos node that had been swallowed, imparting a bit more recklessness to the individual than would be desired otherwise. Morgan had previously been an individual of habits, doing the same thing every day for years on end at the same times during the same portions of the week. This orderly (and perhaps scientific) lifestyle had been cut a bit short by the chaos node, which seemed to have brought a certain fervor to the human's life that would never have happened if not for it. In fact, new things tended to make the individual a bit fearful and nervous, but now, everything was a spectacle.
- Before Coming to the Temple -
This morning, the day after the drake's breaking, Morgan had went out to the barn to bring Waar out for some training. Morgan had been planning to use Waar as a well-respected mount. What individual, after working so hard to break such a magnificent creature, wouldn't want a dragon-like mount? The creature was a right heraldic beast after all; something out of the fairy-tales that Morgan's father had spent so many a dark stormy night reading to them. However, like everything else that seemed to happen to Morgan, lady luck had ran out of time to spin her great wheel for the human.
Waar appeared to be dead. Morgan didn't do it, that was for sure. It had been well fed, nothing in the area seemed to be amiss. Morgan swallowed a lump in their throat and got to working on finding out what had been the matter. There was nothing freshly chewed upon on the substrate (was there something in the creature's throat?), and Morgan had not managed to kill it in the pit by accident or anything. Waar simply seemed to have passed, probably not even half an hour before Morgan had bent down next to the creature in the dirt. The great beast lay on it's side, not even stiff yet, still warm, but very much dead. Morgan searched for a pulse, not quite able to cry about it yet, and then looked into it's great mouth... The beast had managed to swallow a ball. Morgan reached in and removed it, and then placed their ear to the creature's chest. No pulse. No breath. No anything. Morgan rose up after a moment, and then immediately called for help.
It took only an hour to get the individuals together to heave his body up on to a wagon, and Morgan grabbed the Magical Coins off of their desk, just in case.
Waar was dead, and he was on the cart. Morgan was dragging the cart, and obviously having a hard time doing with, since their body was weak. It was their cross to bear, though. Morgan blamed this somehow on theirself. Never mind the fact that Morgan had no idea how a ball got in his enclosure in the first place. He must have hidden it, the clever creature, so that he could test it out later. Morgan still couldn't really feel anything at all, just numb, about it. However, Morgan did know of a temple, a temple that could raise a dead creature back to life, and Morgan was willing to give anything it took to 'fix' this. Waar was their responsibility, and Morgan had failed that responsibility.
Morgan didn't flinch as the squawking occurred, but something did seem unnatural about it. Was that... Bone? Morgan was not bothered by this, simply curious. Elenore, huh? Was it some kind of sentient, or just trained to do that? Morgan knew that izers were sometimes capable of mimicking. Morgan drags the cart up as far as they can, and stops, seeing a shadow beyond the izer's perch. Morgan squinted their glowing green eyes. What was this...
Morgan could see the figure now, and hear the question. Servant of shadows, huh? Morgan figured that they might as well be at least a bit polite, not that Morgan preferred that most of the time. Their voice started out with a near scientist-esque straightness.
"This morning I awoke to find my sarane deceased. I am looking to..."
A bit of guilt tinged their voice unbidden.
"Correct that issue."
Morgan looked this new possible danger in the face, feeling like they should be careful here. It was not what it appeared to be. However, Morgan was not afraid.