Post by Ashe on May 18, 2019 3:56:47 GMT -6
"I have need for someone to go out to the mines and retrieve an... Item, of mine, from a Sarane's nest. You will be rewarded handsomely, feel free to keep anything else you may find along the way."
Ashe
Mason 3
Feel the node
Encounters: on
Looking for: Tainted Crystal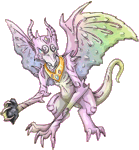 Level: 76.2
Loyalty: 75.2
Stamina: 1
Strength: 3
Resistance: 5
Dexterity: 3
Mentality: 3
Special Abilities: Earth Resistance, Fly, Opposable Thumbs, Magical
Moves: Dig, Peck, Claw

Level: 51.1
Loyalty: 41.1
Type: Imp
Stamina: 1
Strength: 1
Resistance: 0
Dexterity: 4
Mentality: 4
Special Abilities: Flutter
Moves: Ember, Scratch








Ashe held another scrap of paper in his hand as he tried to make sense of it. Find a Sarane nest, and find an item that might be in it? Oh hell. It had taken him so freaking long to find a Sarane hatchling that had wandered away from its nest, and now he had to find an actual nest? And not die? He thought about bringing Fafnir with him, since he was born in these very tunnels, but he felt weird about bringing a large creature into the tight quarters. Even if that creature was from here. In the end, he decided against bringing his trusted buddy, and instead had his other half, an Imp named Inyala, on his shoulder, and his magical Gargoyle, Brazin, at his side. Inyala went everywhere with him, as eager and constant as a shadow. Brazin knew these tunnels like the back of her hand, and he would have been lost many a time without her guidance. She might not always be able to find him the treasures his heart desired, but she got him in and out reliably.
Together, the trio entered the soft darkness at the front of the mine shaft. Here, the lights were at their brightest, close to the mouth and well traveled. Ashe hurried through this section, down another well traveled path.
"Do you remember our mission, Braz?"
Ashe asked the gargoyle. She scurried across the ground, flashing (embarrassingly) pink with her magical sheen. She made a sound that was similar to two rocks grinding together, and he took that as a 'yes you can stop badgering me now and let me work, I know what I'm doing.' The man stayed quiet after that and decided to give her the benefit of the silence. On they trekked, down another path.
Inyala: counted
Brazin: counted
Ashe: 0 5/20
post 1