Post by Jewel on May 31, 2019 20:17:44 GMT -6
Dated 05/01/19

This note is on the quest board just below the other one, far more refined and written in blue ink.

"I have need for someone to go out to the mines and retrieve an... Item, of mine, from a Sarane's nest. You will be rewarded handsomely, feel free to keep anything else you may find along the way."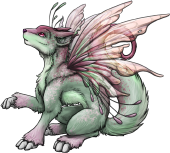 Eilonwi
Level: 1
Loyalty: 9
Stamina: 3
Strength: 2
Resistance: 1
Dexterity: 4
Mentality: 5
Special Abilities: Empathetic Link, Complex Thought, Opposable Thumbs, Magical Touch, Fly
Moves: Bite, Magic Shield, Bathe in Light
Jewel
- Rabbit's Luck, Feel the Node, Mason (1), Inner Compass








If Jewel had ever had a truly stupid idea, this was it.

Staring at the yawning mouth of the mines, he was reminded of all the reasons why setting foot inside was terribly foolish. Hadn't being trapped in cramped quarters always terrified him to the point of paralysis and hysteria? Wasn't it incredibly likely that he would get lost and end up in that situation in a network of tunnels that he had no previous experience of visiting? Yes, to both of the above. Nonetheless, here he was, with Eilonwi staring at him in a mixture of confusion and disbelief.

He expected her to go in there? With him?

"Please, Eilonwi," He'd begged the Felusine to follow him when he'd left the kennel. The tone of his voice was something she'd never heard before, and she didn't like it. "Please just come with me. I won't let anything happen to you."

The unpleasant sound of his words was enough to convince her that she would be better off sticking with him, but faced with the magnitude of the expedition, she wasn't sure she'd made the right choice.

A Sarane nest. Jewel barely understood what a Sarane was; he'd never seen one in person, and had only heard a few tales of their savage natures. Maybe that was a good thing. If he didn't have the knowledge, he didn't have much to feel afraid of, and extra fear was the last thing he needed. The only thing encouraging him to take that first faltering step into the darkness was the thought of a reward, and a shiny one, at that.

(1)