Post by Xentus on Jan 26, 2020 14:30:49 GMT -6
>
Xentus
, accompanied by...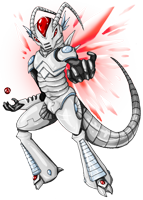 Xio, the TRoD

---
It was around noon by the time Xentus found his way to the quaint, cottage-looking shop. He probably would've missed it if not for the sign. '
Is it this place?
', he thought to himself, musing over the exterior appearance, '
Mistakable for one's home...
'
"
Come now, it is here. Leave that outside
", he announced to his companion.
Walking alongside the leopard was a silvery white robot toting a simple wooden wagon with metal rails. Normally, he'd send the droid alone to do shopping, but today's shopping list was exceptionally long and an extra set of hands to help ferry everything home would make for a less grueling task. Besides, he had never visited this place before. How could he send Xio to a place he'd never been to in person? The droid was supposedly smart enough to perform such a task autonomously, but he could never be certain of these kinds of things. He did let the robot walk freely, perhaps to give it some experience to this new place as well. The door to the shop opened with a jingle of bells as the two entered.
Immediately, the scent of perfumes greeted Xentus's nose, making it scrunch a bit. Floral. Kinda soapy. Not unpleasant, but it wasn't his favorite. Smell aside, the interior of the place was as homely as the exterior; walls adorned with paintings of butterflies and floor with scattered rugs. If not for the selection of goods on display, he'd really question whether or not he had just barged into someone's house. He began towards the various items in store, eyes glancing from thing to thing. There were many a brush and collars and bags and.. Well, a lot of things. Thankfully all in line with the kinds of things that he had in mind to purchase today, or else this would be slightly awkward.
"
Xio, the list?
", he quietly asked the robot, to which he received a folded piece of paper. He unfolded and checked it over briefly, then redirected his attention to find the keeper of the establishment. The sound of metal feet clinking against tile floor made the pair's incoming presence well known as they approached the main counter.
---
Shopping List
(buying almost everything haha)
| | | |
| --- | --- | --- |
| 3x | Luxury Feed (One of each type) | 45 credits |
| 1x | Playing Cards | 7 credits |
| 1x | Orcarina | 18 credits |
| | | |
| 1x | Towel (Blue) | 10 credits |
| 1x | Big Brush (Blue) | 6 credits |
| 1x | De-Matter Comb (Blue) | 5 credits |
| 1x | Big Comb (Metal) | 6 credits |
| 1x | Claw Clippers | 8 credits |
| 1x | Luxury Pet Bowls | 12 credits |
| 1x | Luxury Grooming Supplies | 15 credits |
| 1x | Deluxe Pet Shampoo (Beast Spirit) | 12 credits |
| 1x | Wiurn Scale-Shine | 15 credits |
| 1x | Travel! Rucksack (Tumbleweed) | 15 credits |
| 1x | Creature Bags (Blue) | 50 credits |
| 1x | Saddle Bags (Hard) | 35 credits |
| 1x | First Aid Kit | 25 credits |
| 1x | Travel! Tent (Sunset) | 60 credits |
| 1x | Sleeping Bag (Blue) | 50 credits |
| 1x | Canteen (Black) | 12 Credits |
| 1x | Climbing Clip (Blue) | 10 Credits |
| 1x | Rope (Natural) | 15 Credits |
| 1x | Paper | 2 Credits |
| | | |
| 7x | Mini Pet Treats (One of each type) | 28 Credits |
| 4x | Treat Capsule (One of each type) | 32 Credits |
| 2x | Squishy Goodies (One of each type) | 24 Credits |
| 1x | Leather Bracer | 24 Credits |
| 1x | Chainmail Bracer | 48 Credits |
| 1x | Shrill Whistle (Red) | 4 Credits |
| 1x | Captains Whistle | 20 Credits |
| 1x | Metal Chain (Silver) | 25 Credits |
| 1x | Clicker (Red) | 4 Credits |
| 1x | Luxury Collar and Leash Set | 20 Credits |
| 1x | Small Tether | 10 Credits |
| 1x | Leather Gloves | 8 Credits |
| 1x | Elemental Resistant Gloves (Electrical) | 65 Credits |
| 1x | Steel Collar | 30 Credits |
| 1x | Luxury Muzzle | 40 Credits |
| 1x | Training Dummy (Brown) | 50 Credits |
| 1x | Wiurn Hood | 25 Credits |
| 1x | Izer Hood | 15 Credits |
| | | |
| 1x | Riding Whip | 6 Credits |
| 1x | Bridle | 40 Credits |
| 1x | Wiurn and Pliathor Saddle | 80 Credits |
| 1x | Vespa Saddle (Autumn) | 65 Credits |
| 1x | Travel! Saddle (Tumbleweed) | 80 Credits |
| | --- Total Cost | 1176 Credits |