Post by Xentus on Jan 29, 2020 16:56:41 GMT -6
> Xentus, accompanied by...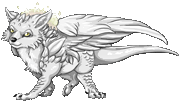 ---
It was a chilly afternoon. Very few clouds lingered in the sky, allowing the sun and its light to grace the cityscape below. Nice weather for an afternoon stroll, though a light jacket may be required. Xentus, however, wasn't one too keen on the idea. He was never one much for wearing many articles of clothing. It didn't feel right on his fur. It felt.. Constrictive. But he also wasn't one for the cold either. His compromise was a long draping shawl. It didn't protect too much from the cold, but it was something to buffer any errant gusts of wind that happened to pick up.
Today his companion was a young, white winged rakai. He hadn't thought up a name for the little one yet, and she was much too indifferent to him to give him some insight or ideas. Perhaps on their stroll something would come to him. Perhaps not. Nevertheless, the two eventually found their way around the community square, with Xentus leading the way. The rakai was walked on a simple leather leash, giving her owner the occasional indignant tug whenever something interesting captured her attention. This time, she tried her best to pull towards a patch of frosted grass with small yellow flowers sprouting. Her wings fluttered to help pull and tug, but to no avail.
"
Come now little one
", a cooing voice came, "
This way yes? Come on. Look
"
Xentus didn't yank or pull back against the struggling rakai, instead opting to redirect her attention using the bright red ball in his palm. He waved it around, bouncing it a couple times to really sell it. It garnered a bit of the small beast's attention, thankfully. For how much longer such a trick would work, he wasn't sure. Hopefully a little while longer, or up until he found something better to refocus the rakai. For now, he capitalized on the fleeting few moments he had to make progress towards his destination.
Now, to that
cafe
. The small one with the green framework and big windows, a big awning over the patio.. They served the best chai he's had in a while. Unfortunately for him, it was a rather popular spot so he had only been there a couple times before. Lunch break seating there was often scarce, and it was lunch time prime time. Still, if he were lucky enough, he might make it before the crowd set in.. The square was already beginning to lull with the humdrum of people passing through. And having an easily distracted pup with a short attention span wasn't helping. Maybe a tiny bit of tugging back was in order to get them moving. He made his way to the building with the rakai in tow.
The cafe
was busy, as he had expected, but he was in luck, there was still room for him and his pet. The waitstaff directed him to a spot on the patio; a table for two set against the black iron gate that fenced in the area. Xentus took his seat and tied the leash to the back of his chair. The little red ball was placed down on the ground for the rakai while he browsed the menu. Delighted to finally have the ball, the pup gnawed and batted it around. It rolled to and fro, and soon out of bounds from her reach, try as she might.