Post by Silver on Jan 31, 2020 23:51:45 GMT -6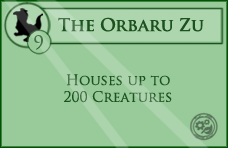 The Orbaru Zu
Free Admission
Open Every Day
8 am - 8 pm
Upon the large iron gate is posted a simple sign, written in common for everyone to view. Though it seems intimidating at first, the gate pushes open easily with even a small amount of effort.
The layout of the zoo is simple and easy to wander around in. The many paths are decorated with cobblestone pavers of various sizes, and they are all brightly painted. There is a mix of many different styles and patterns. For a small fee, guests are able to buy a paver and paint it to be included in the pathways some time in the future.
There are abundant gardens full of hardy plants and grasses between the pathways. They are made of species which don't require a lot of maintenance, yet still look lively. The gardens are dotted with large open grassy areas where guests can take a rest. Some of them have benches to sit on, but no two look exactly the same.
The enclosures themselves are also simple, made to be efficient and comfortable for the Orbaru over all else. There is a thick sheet of glass (or some other transparent material) between the Orbaru and the guests, though it doesn't go that high. Orbaru aren't known for their climbing and jumping skills, after all. It almost seems like someone could reach out and touch them, but no matter how hard they try, they'll end up just short.












Inside the enclosures are masses of colorful plush toys, big floppy beanbags, blanket nests, and everything else one would expect to find in a nursery. The Orbaru are fed a few times a day, often by volunteers, and they have unintentionally been trained to show up next to the access door when it's feeding time. They spend most of the rest of the day sleeping.
The most fun part of the Orbaru Zu is the petting area! Especially friendly Orbaru and Orbaru-crosses are let out into the petting area which is maintained by staff at all times. Guests are allowed to come in and pet and feed the Orbaru inside. For a small credit donation, guests can buy cups of fruit to feed the Orbaru. If they're really lucky, one of the especially cute crosses will be out for a chance to play!



Soliloquy here is in charge of most day to day operations of the Zu. She can often be found riding on the shoulder of a staff member, ordering them around and having them take notes for her. She is friendly but too busy to engage with guests. There's a single well loved plush toy sitting on her desk in her office.

OOC Rules
- Each customer may choose whether or not they wish to interact with other customers.
- Customers may visit the zoo without interaction with the owner if they wish to do so.
- Business hours and any other listed restrictions are in character only.
- The zoo is and always will be 100% free to visit! Any payments made are for flavor only.
Donors
Full Donations
Uzag - Zot
mistdragon - Mya
Spirit - Kibble
Dragon Watcher - Inurii, Draken, Aquala, Dragyn
Jack - Squishy, Condo, Luv's Zombie Potion, Pidge, Pango, Texa, Sooty, Slate, Blanca, Greyette, Blue, Inverse
Renathan - Elle, Meow, Moss, Hi-vis, Chestnut
Skye Flyer - Casey Jr, Lumiose

Partial Donations
Jack - Takara

174/200 Residents