Post by Jack on Dec 17, 2017 22:18:41 GMT -6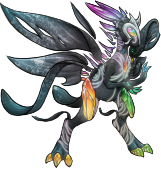 Crossbreed: Luminite
Cunning: 5 Sentient
Average Top Speed: 10 mph, 20 mph (gliding)
Special Requirements: None
Power Levels: 3
Notes: Can glide by jumping up.
Stamina: 1
Strength: 1
Resistance: 2
Dexterity: 4
Mentality: 7
Special Abilities: Glide, Bioluminescence, Mechanical Mind, Magical Touch
Moves: Dig, Spectral Bite, Shadow Meld
Size Chart: 2
Biology: You know what is generally considered to fill up a haunted mine shaft? Ghosts. You know what makes a good mining partner? Not.. ghosts. Early on the scientists realized that for this half-breed to be even half-decent in the tunnels below the earth, it needed a little more solidity than its yumenokei parent provided. So, a crystal body was constructed, infused with the combined essences of the creature and the rest was left to take it's due un-natural course.
The result is a rather mild-natured and curious creature, who is quite light on its feet and.. well light in general - there isn't much weight to the body given it is just a layer of crystalline form reanimated by a spirit able to manipulate other non-magical mineral matter into its own form. This is, indeed, how it 'feeds', which is to say it doesn't eat except when it has lost a part of its form to one reason or another. It then seeks the nearest mineral source to assimilate into its form and gradually regrow a part lost over a length of time. While this makes the creature rather fragile, structurally-speaking, it has a fair share of advantages - beyond having some capacity for magic, the creature is also able to let enough of its spirit seep through the form in order to traverse the deep parallel pockets of shadows, thus allowing it quick escape from danger.
Overall they are quite capable little helpers with a keen sense of minerals and a fair degree of utility. A truly well-bonded owner would never find itself left into pitch black darkness of the mountain's depths, that's for sure.