Post by Kadin on Apr 9, 2021 18:10:26 GMT -6
Below are the pets you may challenge to a Boss Battle in the Fighting Pit!

Rules
1) You may only earn points for two challenges a month, but you may attempt more challenges than that!
2) You may challenge only one Boss at a time.
3) You may not fight the same Boss twice in a row.
4) Include which boss you are challenging in the TITLE of your thread.
5) Up to 5 pets can be on your "team".
6) Each user can only enter a maximum of 3 pets in each Boss Battle.

Good Luck!
Kingly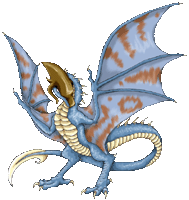 The pride, nay, the royalty of the pit. Standing aloof from the many sarane that the handler regularly totes out for the amusement of the denizens of the labs, Kingly has been in training separately from all others, eager for the day when he can take on challengers for his own battles. Kingly arena is a large, open space with a roof large enough for even a wiurn to fly around in with easy. There is no cover to help you hide once you challenge this King of the Skies.
Squirt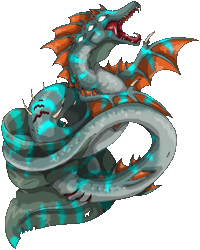 There's a reason you're not supposed to feed the fish. Squirt was small, once. Er. Relatively. All begging for food and nibbling at people's toes, she became something of a mascot of the fighting pit. All of the pit staff were more than happy to toss her leftovers now and then. Now she's, well. Not small. But she's still always waiting to be fed. Squirt's pool in the pit is also her arena. There are platforms scattered across the surface of the water for the more terrestrially inclined creatures so moving around shouldn't be too difficult. Just, uh. Watch your feet.
Squishy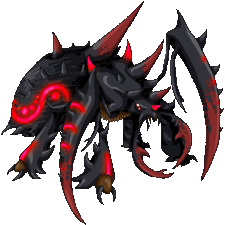 In the labs, they grow them big. Few people still remember the awe-inspiring sight of the original Golossle. Of course the pit had to preserve one prime specimen for and occasion just like the introduction of Boss Battles. One word of advice? Don't get hit. Squish's arena is a large, flat, circular area filled with a mix of dirt, grasses, and wildflowers. Rumor is that when he's not in battle, he enjoys sitting in a small patch of sunlight, carefully nibbling on the petals.
Stomper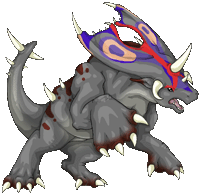 Raised in the pit from birth, would you believe that this fellow was a runt? Yup. Bottle-fed and everything. You wouldn't be able to tell now, especially since he's finally grown into his horns, but Stomper was once the smallest, cutest thundergug you'd ever seen! Aww, and isn't it so cute how he still stomps his feet when he's hungry? Oh, whoops, better stay out of the way, actually... Stomper's arena doesn't even look like it's indoors. It's a grassy meadow will rolling hills and wide open spaces. All the more space for him to
charge you down
run around and play!