Post by Nerius on Jan 23, 2019 21:45:23 GMT -6
MAJOR WIP
Transferred, working on fancy-ing.
Xroads to do list (in no particular order):

Registries
(shop/items)
(custom weapon - range pending)
(custom pets) (Gallor not added)
(Offspring)

- Approved Training
- Spellbook
- Permits

- Gym membership transfer
- Pit point update

- Finish stats for:

Entropy (Decay Gallor)

- Add RP details to pets (name, gender, personality, etc)
- Create house
- Job Center
Important links for updates:
Spoiler tag info
[*spoiler] [ / * spoiler]

Info base

*name
*gender/pronouns
*breed/species
----------
Level: 0, 0/5
Loyalty: 0, 0/5

----------
Stats:
Sta: - | Str: - | Res: - | Dex: - | Ment: -
Abilities:
-
Moves:
-
----------
Obedience Training:
-
Battle Training:
-
----------
Orientation: ?
Status: Single
Parents: (if exists)
Offspring: (if exists)
----------
Personality:
----------
Any extra: (optional)

Abilities in italics have been taught, and are not in default stats.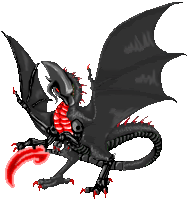 Varkon
Male
Laserblade Wiurn v1
----------
Level:
39, 118/120
Loyalty:
30, 118/120
(+16 levels from fights)
(grows loyalty at standard rate)
----------
Stats:
Sta: 13 | Str: 10 | Res: 9 | Dex: 5 | Ment: 3
Abilities:
Fly, Shadow Resistance, Uncontrollable Rage (anger),
Danger Sense
Moves:
Ebil Nom, Telekinesis, Wing Buff, Vanish, Ker-zaap
----------
Obedience Training:
Name, Come
Battle Training:
Rend, Danger Sense
----------
Orientation:
Asexual, Aromantic
Status:
Forever alone
DNA hybrids:
Taint, Corruption
----------
Personality:
Aggressive, Violent, Dominant, Snarky, Grumpy, Rude
- Enjoys fighting strong opponents, weak beings are usually ignored, unless they annoy him.
- Not really a 'pet', forms 'symbiotic' relationships with humanoids, for things like filling out paperwork, or training better combat abilities.
- Really likes pillows. Seriously he has a whole big nest of them.
- Considers compassion/love/affection to be the peak of weakness.
- Despises anything 'light' oriented.
- Has a snarky, warped sense of humor.
- Will occasionally use his telekinesis to mess with people.
- Does not eat, feeds by draining life force from his prey, via bite.
- Cannot digest solid food, but is capable of consuming liquid.
- Usually walks on all fours, but occasionally walks with his wings like a normal wiurn, freeing up his forelimbs to use as 'hands'.
-
- Ribbon from
Awe Contest
.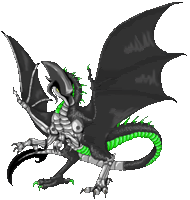 Vazra
Female
Dark Cyborg Wiurn v1
----------
Level:
3, 17/20
Loyalty:
13, 17/20

----------
Stats:
Sta: 13 | Str: 10 |Res: 9 | Dex: 5 |Ment: 3
Abilities:
Fly, Shadow Resistance, Circuitry Problem, Mechanical Mind
Moves:
Shadow Bite, Screech, Wing Buff, Bio Pulse
----------
Obedience Training:
Name, Come
Battle Training:
-
----------
Orientation: Bisexual, Aromantic
Status: Single
----------
Personality:
Erratic - Violent - Hedonist - Sadistic - Psychopath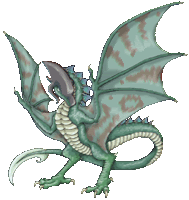 Tempest
Female
Aquatic Wiurn v1
----------
Level:
2, 10/15
Loyalty:
2, 0/5

----------
Stats:
Sta: 13 |Str: 10 | Res: 9 | Dex: 5 | Ment: 3
Abilities:
Fly, Water Resistance, Amphibious
Moves:
Frost Bite, Poison Sting, Wing Buff, Hydro Sphere
----------
Obedience Training:
-
Battle Training:
-
----------
Orientation: Bisexual
Status: Single
Parents: Godaiyou x *Mistletoe*
Offspring: ?
----------
Personality:

Nerissa
Female
Aquamint Wiurn v2
----------
Level:
0, 4/5
Loyalty:
2, 4/5

----------
Stats:
Sta: 4 | Str: 4 | Res: 5 | Dex: 5 | Ment: 2
Abilities:
Fly, Water Resistance, Amphibious
Moves:
Frost Bite, Poison Sting, Wing Buff, Hydro Sphere
----------
Obedience Training:
-
Battle Training:
-
----------
Orientation: Strait
Status: Has a thing with Maurus
Parents: Tempest x Milana
----------
Personality: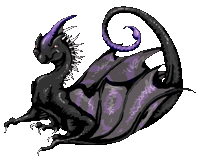 Maurus
Male
Dark Wiurn v2
----------
Level:
0, 0/5
Loyalty:
0, 0/5

----------
Stats:
Sta: 4 | Str: 4 | Res: 5 | Dex: 5 | Ment: 2
Abilities:
Fly, Shadow Resistance, Uncontrollable Rage (light wiurn)
Moves:
Shadow Bite, Poison Sting, Wing Buff
----------
Obedience Training:
-
Battle Training:
-----------
Orientation: Strait
Status: Has a thing with Nerissa
Parents: Oni x Kage
----------
Personality: